Caprese Sandwich with Roast Chicken & Peaches
Summer 2020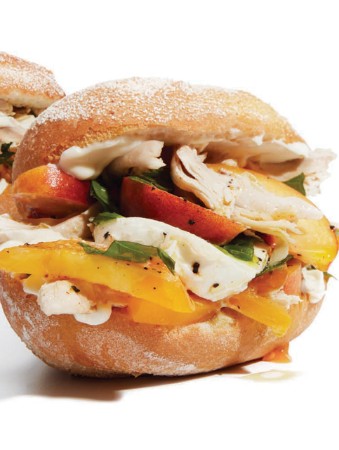 Caprese Sandwich with Roast Chicken & Peaches
Summer 2020
BY: Tonia Wilson-Vuksanovic
This sandwich epitomizes summer. Make sure the tomatoes and peaches are at their peak to fully capture the essence of the season. If peaches are lacking sweetness, add a drizzle of honey as a cheat!
1 to 2 ripe yellow tomatoes, sliced
1 ripe peach, pitted and sliced
1 ½ cups (375 mL) fresh mozzarella di bufala, sliced
8 fresh basil leaves, julienned
3 tbsp (45 mL) olive oil
Salt and freshly ground pepper to taste
4 Italian-style buns
¼ cup (60 mL) mayonnaise
2 cups (500 mL) roast chicken, shredded (use store-bought rotisserie chicken)
1 In a medium bowl, gently toss together tomatoes, peach, mozzarella, basil, olive oil and salt and pepper to taste.
2 Slice buns and spread with mayonnaise. Divide chicken and Caprese salad, including juices, between buns.
3 Slice sandwiches and serve.
SHARE