Braised Veal Shanks with Currants
Holiday 2019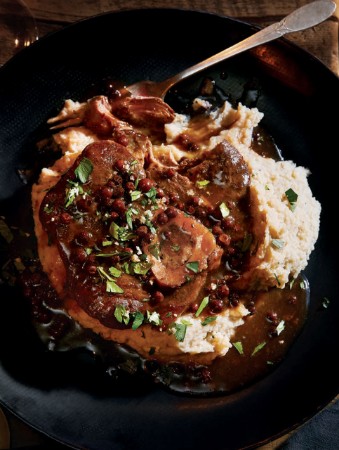 Braised Veal Shanks with Currants
Holiday 2019
BY: Christopher St. Onge
Long-cooked braises are perfect for entertaining. The meat can be refrigerated in the braising liquid once tender, reheated in short order, and finished before anyone realizes you've left the table. There's no chance of dry meat, and the delicious liquid is easily transformed into a velvety sauce.
1 tbsp (15 mL) olive oil, plus extra as required
6 oz (170 g), about 5 slices, thick-cut bacon, diced
6 cross-cut veal shanks, each 1 inch (2.5 cm) thick, about 11 oz (310 g) each
Salt and freshly ground black pepper
2 onions, thinly sliced
2 cups (500 mL) red wine, preferably Pinot Noir
1 cup (250 mL) veal or chicken stock
1 cup (250 mL) dried currants, divided
4-inch (10-cm) cinnamon stick
2 bay leaves
2 tbsp (30 mL) water
2 tsp (10 mL) cornstarch
2 tbsp (30 mL) chopped parsley
1 tbsp (15 mL) freshly grated horseradish
1 Preheat oven to 300°F (150°C).
2 Heat 1 tbsp (15 mL) oil in a large Dutch oven over medium heat; add bacon and fry for 5 to 6 minutes or until just beginning to crisp. Remove with a slotted spoon; set aside. Drain off all but 2 tbsp (30 mL) fat and return to heat.
3 Season shanks generously with salt and pepper. Brown (in batches if necessary) 4 minutes per side. Remove to a plate. Add onions to pot and cook until translucent, about 5 minutes. Pour wine over and stir to scrape up any brown bits. Add stock, ½ cup (125 mL) currants, cinnamon stick, bay leaves and reserved bacon; tuck veal pieces into liquid overlapping slightly as necessary. Bring to a boil.
4 Cut a piece of parchment about the size and shape of the pot opening; loosely cover shanks and liquid, place lid overtop and cook in oven for 2 ½ to 3 hours or until fork-tender. (Veal may be prepared to this point, covered and refrigerated for up to 3 days. Defat braising liquid while cold; simmer over medium-low heat for 20 minutes before proceeding.)
5 Remove veal to a platter and tent with foil to keep warm. Pass the liquid through a fine-mesh sieve, pressing on solids to extract as much liquid as possible. Discard solids and return liquid to pot. Add remaining ½ cup (125 mL) currants and bring to a boil over medium heat. Let boil for 5 minutes to plump currants.
6 Combine water and cornstarch in a small bowl; whisk into braising liquid and cook until sauce is thickened and coats the back of a spoon. Spoon sauce and currants over veal. Combine parsley and horseradish; sprinkle overtop. Serve with Chestnut & Potato Mash (recipe below).
Chestnut & Potato Mash
There's something satisfying about roasting your own chestnuts, but if you can't be bothered, you'll need 10 oz (285 g) roasted and peeled chestnuts. They're widely available in supermarkets. The addition of apple sauce and a touch of sour cream balances the richness of the Braised Veal Shanks with Currants. The mash can be made a few days ahead and reheated using your preferred method for mashed potatoes.

12 oz (340 g) shell-on chestnuts, about 30
3 lbs (1.36 kg) russet potatoes, peeled and cut into chunks
½ cup (125 mL) unsweetened apple sauce
1 ¼ cups (310 mL) hot milk, divided
¼ cup (60 mL) sour cream or crème fraîche
4 tbsp (60 mL) unsalted butter, softened
¼ tsp (1 mL) freshly grated nutmeg
Salt and freshly ground pepper to taste
1 Using a sharp knife, cut an X into each chestnut shell to allow steam to escape.
2 Heat a large cast iron skillet over mediumhigh heat. Add chestnuts and cook for about 20 minutes, stirring and shaking the pan from time to time (shells will become blackened in spots). Set aside to cool.
3 Meanwhile, cook potatoes in plenty of salted boiling water until tender, 20 to 25 minutes. Drain and return to pot. Cover to keep warm.
4 Once chestnuts are cool enough to handle, remove and discard shells; add chestnuts to blender along with apple sauce, ½ cup (125 mL) milk, and sour cream.
5 Mash potatoes; stir in remaining ¾ cup (175 mL) milk. Add chestnut mixture, butter and nutmeg; combine. Season to taste with salt and pepper.
SHARE