Braised Brats with Purple Sauerkraut
Winter 2018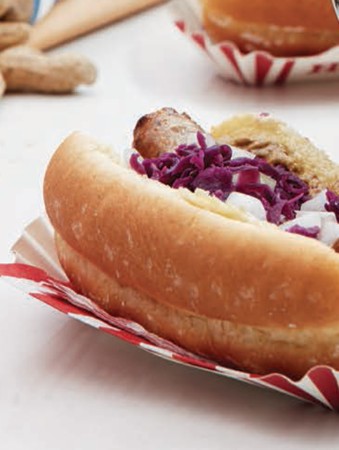 Braised Brats with Purple Sauerkraut
Winter 2018
BY: Eric Vellend
This tailgater-style choucroute garni takes sauerkraut and mellows it out with red cabbage and a long braise. It's both an excellent side dish and condiment with sausages. Not only can the cabbage be cooked ahead of time, it noticeably improves after a few days in the fridge. Kozlik's makes a German-style mustard that is terrific with this dish.
1 jar (796 mL to 1 L) sauerkraut
1½ lbs (750 g) red cabbage, about ½ medium head
2 tbsp (30 mL) unsalted butter
2 medium onions, thinly sliced
1½ tsp (7 mL) whole caraway seeds
1½ cups (375 mL) dry white wine
5 tbsp (75 mL) granulated sugar, divided
Salt and freshly ground pepper, to taste
½ cup (125 mL) lager beer (not dark)
1 tbsp (15 mL) vegetable oil
6 fresh Bratwurst or plain pork sausages
1 cup (250 mL) diced Vidalia onion
6 buns to fit sausages, split
German or Dijon mustard for serving
1. Drain sauerkraut in a colander, pressing with back of spoon to remove as much brine as possible.

2. Remove and discard any damaged outer leaves of cabbage. Cut in half through core. Remove and discard core. Slice cabbage very thinly, preferably on a mandoline.

3. In a large pot, heat butter over medium heat. Add onions and caraway seeds. Cook, stirring, 5 minutes. Add cabbage, sauerkraut, wine and 4 tbsp (60 mL) sugar. Cover and raise heat to medium-high. When it starts simmering, reduce heat to maintain gentle simmer. Cook, stirring occasionally, until cabbage is very tender and moisture has evaporated, about 1½ hours. Season with salt, if necessary, and pepper. If it seems a bit tart, stir in remaining 1 tbsp (15 mL) sugar. (Cooled, covered and refrigerated, cabbage will keep for up to 5 days.)

4. Preheat oven to 375°F (190°F).

5. Transfer cabbage to roasting pan. Pour in beer. Cover with foil and bake until hot, about 20 minutes.

6. While cabbage is in oven, heat oil in a large nonstick frying pan over high heat. Cook sausages until nicely browned, about 2 minutes per side. Place sausages on top of cabbage. Cover and bake until sausages are cooked through, 20 to 25 minutes.

7. While sausages are cooking, soak diced onion in cold water for 10 minutes. Drain, pat dry with paper towel and transfer to small bowl.

8. Serve sausages and cabbage with buns, onion and mustard.
SHARE