Blood Orange Marmalade with Gin
Spring 2018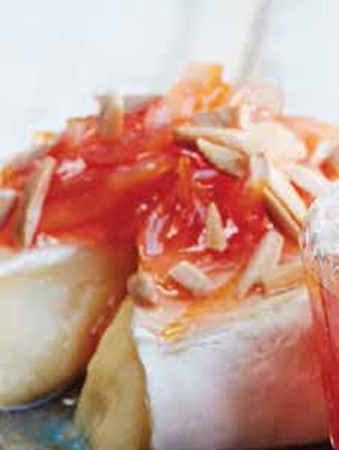 Blood Orange Marmalade with Gin
Spring 2018
BY: Elizabeth Baird
Blood oranges have vivid maroon-red flesh, tart with lots of citrus punch and wisps of raspberry. They make a fine peel-dense marmalade, especially when accented with a splash of the classic Broker's Premium London Dry Gin.
4 blood oranges, 1½ lbs (750 kg)
1 lemon
6 cups (1.5 L) water
6 cups (1.5 L) granulated sugar
2 tbsp (30 mL) Broker's Premium
London Dry Gin
1 Cut a 10-inch (25-cm) square of double thickness fine cheesecloth; rinse, wring out; spread out to line a large sieve, set over an 8-cup (2-L) measuring cup or bowl.

2 Scrub oranges and lemon in warm sudsy water; rinse well. Cut out blossom ends and trim off any blemishes. Cut oranges and lemon in half; squeeze out juice, dislodging any seeds. Strain juice through the cheesecloth-lined sieve, reserving any seeds and pulp on the cheesecloth. Pull out membranes from oranges and lemon and add to the lined sieve. Bring up cheesecloth sides loosely but completely enclosing the contents and tie top with cotton string. Place the cheesecloth pouch and orange and lemon juice in a large saucepan.

3 Cut orange and lemon halves into quarters, then crosswise into paper-thin strips; add to the juice along with the water. Bring to simmer over medium heat. Cover, reduce heat to low and simmer gently, periodically pressing seed bag to release pectin. Continue simmering until peel is transparent and a strip of peel mushes when pressed between fingers, about 2 to 2½ hours. Remove cheesecloth pouch; firmly squeeze its juices back into the pan. The peel mixture should measure 6 cups (1.5 L); if not, add water to make up difference or boil until reduced to this amount.

4 Combine sugar and fruit mixture in a large wide heavy-bottom saucepan. Stir well; bring to full rolling boil, stirring. Boil vigorously, stirring constantly, until marmalade clears, has thickened and reached its setting point,* about 10 to 12 minutes. Remove from heat; stir in gin.

5 Pour into prepared preserving jars, leaving ¼-inch (5-mm) headspace. Seal with prepared discs and bands. Boil in boiling water canner 10 minutes. Uncover; let boiling subside. Remove jars; cool on rack.
Makes about six 1-cup (250-mL) jars
*SETTING POINT
To test, put 2 small plates in the freezer before boiling marmalade. As marmalade nears its setting point, it thickens, clears and bubbles noisily. To test for doneness, take pan off heat; dribble a small spoonful onto cold plate. Let cool; run tip of fork through marmalade. If surface wrinkles, marmalade is set. If not, return plate to freezer and pan to heat to continue boiling. Repeat test every 2 or 3 minutes until set, using coldest plate. Here's a tip. Check the surface of marmalade in pan when it's off heat during test; a very thin film forming on top is another sign that shows the marmalade is setting.
SHARE