Blackberry Violet Shortcakes
Early Summer 2015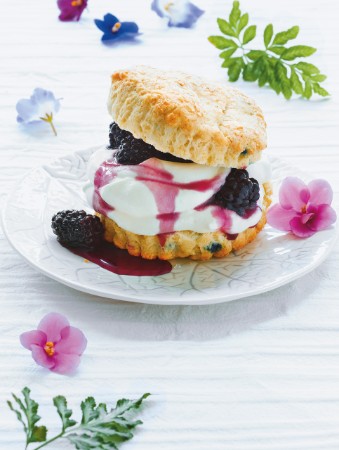 Blackberry Violet Shortcakes
Early Summer 2015
BY: Christopher St. Onge
The delicate flavour of violets is mostly in their lovely fragrance. Gorgeous candied violets, available at fine grocers, introduce this fragrance to these shortcake biscuits topped with a simple white chocolate mousse and blackberries flavoured with Crème Yvette, a knock-out violet liqueur arguably better than the real thing.
BLACKBERRIES
3 cups (750 mL) blackberries
⅓ cup (80 mL) Crème Yvette liqueur
3 tbsp (45 mL) sugar

SHORTCAKE
1½ cups (375 mL) all-purpose flour
1½ cups (375 mL) cake and pastry flour
4 tsp (20 mL) baking powder
¼ tsp (1 mL) salt
2 tbsp (30 mL) sugar
6 tbsp (90 mL) cold unsalted butter, cut into chunks
1 tbsp (15 mL) finely chopped candied violets
1 cup plus 1 tbsp (250 mL plus 15 mL) cold whipping cream, divided
⅓ cup (80 mL) cold water
Sanding or coarse sugar

WHITE CHOCOLATE MOUSSE
¼ cup plus 1 cup (60 mL plus 250 mL) cold whipping cream, divided
3 oz (90 g) white chocolate, chopped
1 Place blackberries in a heatproof bowl.Combine Crème Yvette and sugar in a small saucepan over medium heat. Stir to dissolve sugar, bring to a boil and cook for 1 minute. Pour hot syrup over blackberries and stir to coat. Refrigerate until chilled, at least 2 hours or up to a day.

2 Preheat oven to 425°F (220°C).

3 In a food processor, combine all-purpose flour, cake and pastry flour, baking powder, salt and sugar. Add butter and pulse to cut into pea-size pieces; turn out into a large bowl and stir in candied violets.

4 In a large measuring cup, combine 1 cup (250 mL) cream and the water; pour over flour mixture. Stir until dough just comes together and turn out onto work surface. Knead 2 to 3 times, and flatten into a disc 1 inch (2.5 cm) high. Using a 3-inch (8-cm) round cutter, cut into 8 biscuits, regathering dough if necessary. Place on a parchment-lined baking sheet, brush tops with remaining 1 tbsp (15 mL) cream and sprinkle each with a small amount of sanding sugar.

5 Bake for 15 to 17 minutes or until golden and puffed. Remove to a rack to cool.

6 To make white chocolate mousse, bring ¼ cup (60 mL) cream to a boil; stir in white chocolate until melted. Cool to room temperature.

7 In a separate bowl, whip remaining 1 cup (250 mL) cream to medium peaks. Continue beating and slowly add chocolate mixture; whip to stiff peaks.

8 To serve, split biscuits in half and arrange bottoms individually on plates. Dress with an equal amount of mousse, berries and syrup; top with biscuit halves.
SHARE