Black Bean, Mushroom & Lentil Burgers
Summer 2021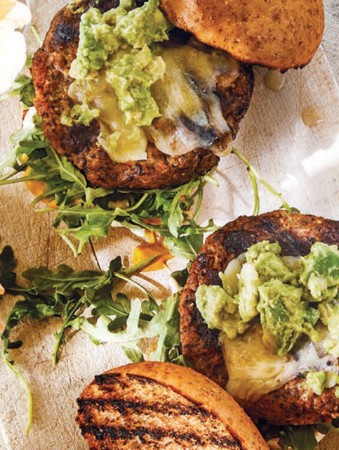 Black Bean, Mushroom & Lentil Burgers
Summer 2021
BY: Miranda Keyes
These vegetarian burgers stand up on the grill like any of their meaty counterparts. Puréeing the black beans gives the burgers binding power while keeping the lentils and vegetable chunky provides a wonderful balance of textures. If you have any patties left over, they will pair nicely with a crisp green salad.
1 tbsp (15 mL) olive oil
2 cups (500 mL) thinly sliced shiitake mushrooms, about 100 g
1/2 cup (125 mL) finely diced red bell pepper, about 1/2 pepper
1/2 tsp (2 mL) salt, divided
2 garlic cloves, finely minced
1 can (450 mL) black beans, drained, rinsed and patted dry
1 large egg
1 tsp (5 mL) chilli powder
1 tsp (5 mL) smoked paprika
3/4 cup (175 mL) canned lentils, drained, rinsed and patted dry
3/4 cup (175 mL) bread crumbs
TO ASSEMBLE
Gruyère cheese, thinly sliced
4 whole wheat burger buns
Mayonnaise
Yellow mustard
Baby arugula
Smashed avocado
Salt and freshly ground pepper to taste
1. Heat oil in a large frying pan set over medium heat. Add shiitake mushrooms, red bell pepper and 1/4 tsp (1 mL) salt. Cook, stirring often, until vegetables are tender and lightly golden, 7 to 10 minutes. Add garlic and cook for 1 minute. Scrape mixture into a bowl and set aside to cool completely for about 20 minutes.
2. To a food processor, add black beans. Whirl until the mixture is as smooth as possible (some lumps will remain). Add egg, chilli powder smoked paprika and remaining 1/4 tsp (1 mL) salt. Continue to whirl until fully combined, scraping down sides of the bowl as needed. Add cooled vegetables and lentils. Lightly pulse just until combined, about 5 pulses. The mixture should remain rough.
3. Scrape the mixture into a large bowl along with bread crumbs. Gently mix until combined and shape into 4 equal-sized burgers, about 3/4 inch (2 cm) thick (see TIP).
4. Cook burgers over a high grill for 5 minutes per side, until grill marks appear and the burgers are heated through. Arrange Gruyère slices over burgers for the last 2 minutes of cooking to melt.
5. Toast buns on the grill, if desired. Smear bottoms of buns with mayonnaise and yellow mustard; top each one with arugula, 1 burger and avocado. Season with salt and fresh pepper. Serve immediately.
TIP Burgers can be made up to 1 day in advance, covered with plastic wrap and refrigerated.
SHARE