Berry Happy Spritzer
Summer 2007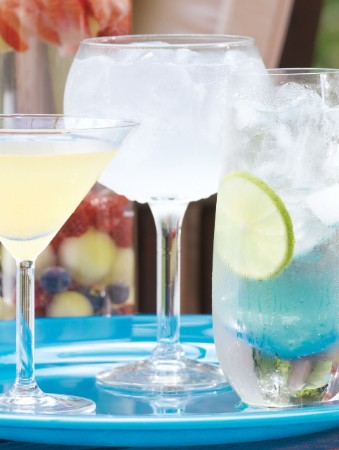 Berry Happy Spritzer
Summer 2007
BY: Michelle P. E. Hunt and Laura Panter
1. Fill a wine goblet with ice.

2. Add 1½ oz berry-infused vodka (recipe follows), 4 oz lemonade and 2 oz soda water.

3. Garnish with a lemon twist.
Berry Infusion
Because it is virtually tasteless and odourless, vodka is the simplest spirit to use for infusions. One of our most popular infusions over the last decade is the berry infusion. Use berries in season, and just make sure you combine sweet and tart varieties for a balanced taste! Try this Berry Infusion in a Berry Cosmo or Berry Rickey, (recipes follow).

1. To an infusion jar or lidded jar, add one 750 mL bottle of vodka, ½ cup each fresh blueberries, strawberries, raspberries and honeydew melon.

2. Infuse for anywhere from 3 days to 2 weeks, stir or agitate mixture every few days.

3. Open the jar and stir to mix before straining and discarding the berries.

4. Add ¼ to ½ cup simple syrup (recipe follows) to taste if desired.


Simple Syrup
To make simple syrup, combine equal parts sugar and boiling water, stir until the sugar has dissolved, and store in the fridge until chilled.


Berry Cosmo

1. In a cocktail shaker filled with ice, add 1½ oz berry-infused vodka , ½ oz Cointreau, the juice of 1/8 fresh lime and 2 oz white cranberry juice.

2. Stir until chilled and strain into a Martini glass.

3. Garnish with a fresh berry skewer.


Berry Rickey
1. Fill a tall glass with ice.

2. Add 1½ oz berry-infused vodka, ¼ oz lime cordial and top with lemon-lime soda (Sprite or 7-UP).

3. Garnish with a lime wheel.
SHARE