Baileys Creamy Chocolate Pudding
Winter 2001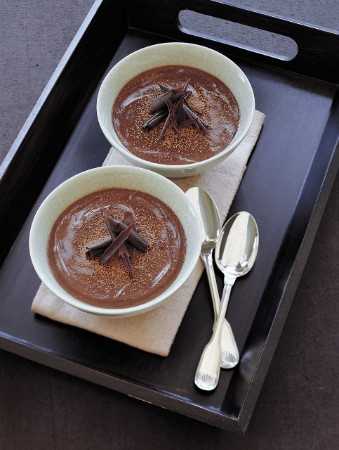 Baileys Creamy Chocolate Pudding
Winter 2001
BY: Johanna Burkhard
Quick and easy to prepare, this silky-smooth treat can be made with sweet chocolate or use dark bittersweet or semi-sweet chocolate for a more intense chocolate delivery.
¼ cup (50 mL) granulated sugar
¼ cup (50 mL) cornstarch
1 1/3 cups (325 mL) milk
½ cup (125 mL) light or whipping cream
1 egg yolk
1/3 cup (75 mL) Baileys Irish Cream
1 bar (85 g) imported milk chocolate, chopped or 3 squares, 3 oz (90 g), sweet chocolate, chopped.

Garnish
Cocoa powder
Grated chocolate or chocolate curls
Whipped cream, optional
1. Combine sugar and cornstarch in a medium saucepan. Pour in milk and whisk well to dissolve the cornstarch. Whisk in cream and egg yolk. Place over medium heat and cook, whisk constantly, for about 4 minutes or until mixture comes to a full boil and thickens.

2. Remove from heat and whisk in Baileys. Add chocolate and whisk until melted and smooth.

3. Pour pudding into four individual ramekins or serving dishes. Let cool slightly, then cover surfaces with plastic wrap to prevent a skin from forming. Refrigerate for two hours or until chilled. To serve, sprinkle with cocoa powder and garnish with chocolate. Top with whipped cream, if desired.
SHARE