All-Purpose Beer Batter for Fried Fish, Chicken and Vegetables
Winter 2016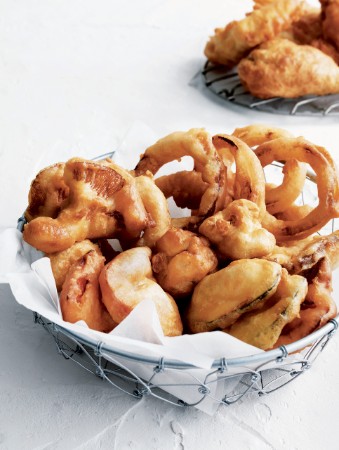 All-Purpose Beer Batter for Fried Fish, Chicken and Vegetables
Winter 2016
BY: Lucy Waverman
It's very important when you're deep-frying to make sure the batter is kept very cold so it becomes crisp when cooked. Refrigerate before using and pop an ice cube in just before dipping the ingredients into the batter.
ALL-PURPOSE BEER BATTER
1¼ cups (310 mL) India Pale Ale
1¼ cups (310 mL) all-purpose flour
¼ cup (60 mL) cornstarch
1 egg
1½ tsp (7 mL) sea salt
1 ice cube

SEASONED FLOUR
½ cup (125 mL) flour
1 tsp (5 mL) salt
Freshly ground pepper
1 Whisk together pale ale, flour, cornstarch, egg and salt in a large bowl. Let sit refrigerated for 15 minutes. Don't worry about lumps. Add ice cube into batter just before coating ingredients.

2 Season ½ cup (125 mL) flour with salt and pepper, and place on a plate for dredging.
Makes about 3 cups (750 mL) batter
SHARE