A Walk in the Woods
Holiday 2016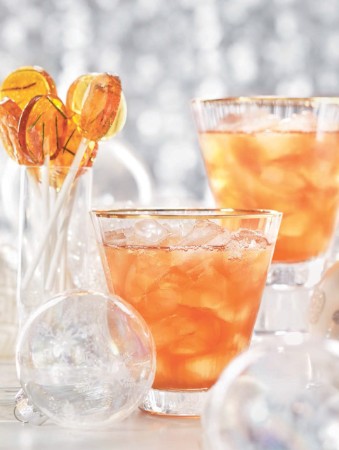 A Walk in the Woods
Holiday 2016
BY: Eshun Mott
The scents of the woods in a glass! Look for dried juniper berries in gourmet shops or spice stores. The lollipop is a beautiful garnish and the easiest candy to make, but always be very careful when working with hot sugar syrup as it can give you a terrible burn. If you have a silpat or similar baking mat, use the back of it to give your lollipops a fun texture. You can also use a lollipop mould if you have one—oil it lightly before pouring in sugar syrup. For an alcohol-free variation of this drink, just skip the Scotch.
ROSEMARY MAPLE LOLLIPOP
1 cup (250 mL) sugar
¼ cup (60 mL) "medium grade" or "grade B" maple syrup
¼ cup (60 mL) white corn syrup
¼ cup (60 mL) water
¼ cup (60 mL) rosemary leaves
20 wooden skewers or lollipop sticks


JUNIPER & ROSEMARY SYRUP
1 cup (250 mL) water
1 tbsp (15 mL) dried juniper berries
½ cup (125 mL) "medium grade" or "grade B" maple syrup
2 tbsp (30 mL) fresh rosemary leaves

4 cups (1 L) flavourful brewed black tea, chilled
1 cup (250 mL) smoky/peaty single-malt Scotch
¼ cup (60 mL) juniper & rosemary syrup
1 To make lollipops, combine sugar, maple syrup, corn syrup and water in a small heavy-bottom pot and stir over medium heat until liquefied. Use a pastry brush dipped in water to "wash" away any crystals that have formed around the edge of the pot. Attach a candy thermometer to the side of the pot and cook for 5 to 7 minutes without stirring or until it has reached hard-crack stage (300°F/150°C). While you are waiting for the sugar syrup, lay out 20 small piles of about 4 rosemary leaves about 3 inches (8 cm) apart on a silpat or sheet of parchment paper. Have your wooden skewers ready. When your syrup has reached the right temperature, remove from heat and let stand for 3 to 5 minutes or until it has cooled and thickened slightly. Use a sturdy tablespoon to pour a round of syrup on top of each pile of rosemary ensuring that the leaves are fully covered, and working as you go, embed a skewer in each one. Let cool. Store in an airtight container with parchment between the layers for up to 2 days before serving.

2 For syrup, combine water and juniper berries in a small pot over medium heat and bring to a boil. Turn heat to medium-low and simmer gently for 10 minutes or until water is infused with juniper and reduced to about ½ cup (125 mL). Add syrup and stir until dissolved. Remove from heat, add rosemary and let stand until cool. Strain into a glass container and refrigerate until needed. Will keep for about 2 weeks.

3 Combine tea, Scotch, and juniper syrup and serve in rocks glasses over ice with rosemary maple lollipops.
SHARE