3 Fruit Marmalade
Winter 2011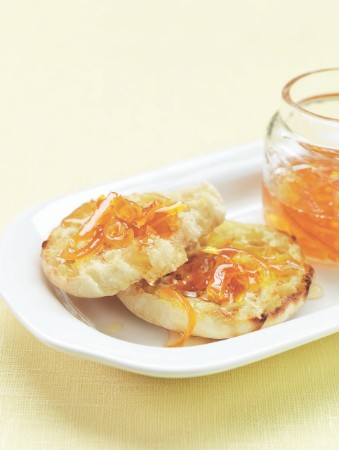 3 Fruit Marmalade
Winter 2011
BY: Lucy Waverman
A terrific spread if Seville oranges are out of season or not available. Do not use Seville oranges in this recipe, they are too bitter for this marmalade.
1 large grapefruit
1 large sweet orange
1 large lemon
6 cups (1.5 L) water
About 2½ to 3 pounds (1.25 to 1.5 kg) sugar (about 6 cups/1.5 L)
1 Cut top and base of grapefruit, orange and lemon. Use a sharp knife to cut peel and pith away from fruit in sections. Place peel in cold water to cover and bring to boil. Boil 10 minutes, drain, cover with fresh water and boil another 10 minutes. Repeat 1 more time. Drain and cool. Scrape out as much of the bitter white squishy pith as you can with the side of a teaspoon or the edge of a paring knife. Cut grapefruit, orange and lemon peel into thin strips. Reserve. Discard pith.

2 Cut all fruit from the outer membranes (the thin skin that protects the fruit) over a bowl, making sure any white pith is removed from sections and catching any juice in the bowl. Squeeze membranes to get out all the juice. Place membranes in a cheesecloth bag. Place flesh, seeds, cheesecloth bag and collected juice with 6 cups (1.5 L) water in pot. Bring to boil, reduce heat and simmer for 20 minutes until fruit has completely fallen apart and liquid is flavourful. Discard cheesecloth bag. Strain, reserving liquid.

3 Combine liquid and reserved peel. Measure the amount of mixture in cups. It should measure about 6 cups (1.5 L). Add an equal amount of sugar, less ½ cup (125 mL). Place in the largest stock pot you have. Mixture will bubble way up. Bring to a boil and boil briskly for 15 to 25 minutes. After 15 minutes of cooking, or when foam begins to subside somewhat, begin testing, and test every 2 minutes until the set is correct (see p. 30). Skim of any froth. Leave to sit for 20 minutes, then ladle into jars.
Makes about 4 jars, 8 oz (250 g) each
SHARE