Wild Mushroom Soup with Cedar Jelly
Temps des Fêtes 2016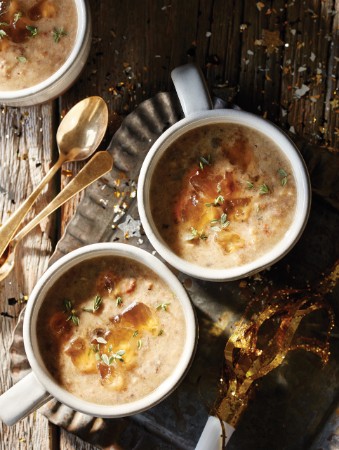 Wild Mushroom Soup with Cedar Jelly
Temps des Fêtes 2016
Forbes Wild Foods specializes in foraged Canadian edibles and both the cedar jelly and dried mixed wild mushrooms can be ordered online at wildfoods.ca. The soup can be made up to 3 days in advance and refrigerated until ready to reheat.
1¾ oz (50 g) mixed dried wild mushrooms
4 cups (1 L) hot water
1 tbsp (15 mL) butter
2 tbsp (30 mL) olive oil
1 leek, white and pale green part only, sliced
8 oz (250 g) fresh white mushrooms, chopped
3 cloves garlic, finely chopped
½ cup (125 mL) dry sherry
2 tbsp (30 mL) all-purpose flour
1 cup (250 mL) chicken stock
1 sprig thyme, plus extra leaves for garnishing
½ tsp (2 mL) salt, plus extra to taste
1/3 cup (80 mL) sour cream
Freshly ground black pepper to taste
2 tbsp (30 mL) cedar jelly, divided
1 Place mushrooms in a large heatproof bowl; pour water over and let stand for 1 hour. Remove mushrooms and squeeze over bowl to remove excess liquid; roughly chop. Strain mushroom soaking liquid through a fine mesh sieve; set both mushrooms and liquid aside.

2 Heat butter and oil in a medium pot over medium heat; once foaming, add leek and sauté for 4 to 5 minutes or until tender. Add fresh and dried mushrooms; cook, stirring often, for 8 to 10 minutes or until lightly golden. Stir in garlic and cook 2 minutes longer.

3 Add sherry to pot and cook until evaporated, about 3 minutes. Sprinkle flour over and stir to combine. Add reserved mushroom soaking liquid and stock; whisk until mixture comes to a boil and thickens somewhat. Tuck in thyme sprig and season with ½ tsp (2 mL) of salt. Reduce to low, cover and simmer for 30 minutes or until mushrooms are very tender.

4 Using an immersion blender, purée to desired consistency; whisk in sour cream. Season with black pepper; taste and add more salt if desired. Divide between 6 cups or bowls and top each with 1 tsp (5 mL) or so of cedar jelly and thyme leaves.
SHARE