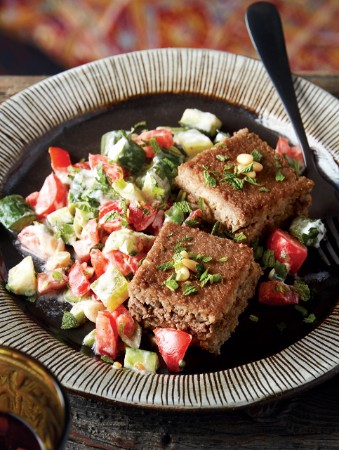 BY: Lucy Waverman
Tray kibbeh is easier and less time-consuming than making individual little packages stuffed with ground meat. It is a shortcut often used by Syrian homemakers. If you want to top this kibbeh with tomatoes instead of a double layer of pastry, make half of the kibbeh pastry recipe, top the filling with slices of tomato and continue with the recipe. Bulgur comes in different thicknesses. For kibbeh you want the finest bulgur. For other dishes you would use medium. Syrians use ghee, but butter and oil give a similar effect. This is Mona and Miriam's recipe. They use a lot of ground pepper, but season it as you like it. They do not use a food processor, but knead the pastry by hand by placing a large bowl on the floor, sitting down and kneading together. The food processor works well. This is served with labneh, which is Syrian (or Balkan) yogurt and the Syrian Salad (recipe follows).
FILLING
2 tbsp (30 mL) butter
2 tbsp (30 mL) vegetable oil
4 cups (1 L) chopped onions
¼ tsp (1 mL) salt
1 lb (500 g) ground beef

SEASONING
Salt to taste
1 tbsp (15 mL) Baharat Spice Mixture (recipe follows)
½ tsp (2 mL) ground black pepper, optional

KIBBEH PASTRY
1 cup (250 mL) fine bulgur wheat
2 cups (500 mL) warm water
6 oz (175 g) ground beef
¾ cup (175 mL) grated onion
1 tbsp (15 mL) ground cumin
2 tsp (10 mL) ground pepper
1 tsp (5 mL) salt
1 tsp (5 mL) allspice
¼ cup (60 mL) all-purpose flour

GARNISH
1 cup (250 mL) pine nuts
2 tbsp (30 mL) chopped mint
1. Heat butter and oil together in a skillet on medium heat. Add onions and season lightly with ¼ tsp (1 mL) salt. Sauté onions until tender, about 5 to 7 minutes. Add ground beef and cook, stirring to break up the meat, about 2 minutes. Once the meat is crumbled, add salt, Baharat Spice Mixture and pepper. Cover and reduce heat to medium-low. Continue to cook until meat and onions are very tender, about 15 to 20 minutes. Cool and reserve for filling the pastry.

2. Preheat oven to 350°F (180°C).

3. Place bulgur in a large bowl. Cover with warm water. Cover with a lid and let sit for 30 minutes, adding more warm water if the bulgur seems to be dry. Drain the bulgur. Place it in a food processor and pulse a few times. Add uncooked ground beef, onion, cumin, pepper, salt and allspice. Process until it comes together, about 1 minute. Add flour and continue to process until it is a sticky mass, about 1 minute more. Press half of pastry into a 10 x 14-inch (25 x 35-cm) rectangular baking dish or 10-inch (23-cm) round cake pan. Spread cooked filling over pastry. Top with remaining pastry, patting together small pieces to make a thin, even layer. Score the top of the kibbeh pastry into squares for easier cutting. Place a few pine nuts into each square.

4. Bake for 35 to 45 minutes or until lightly browned around the edges and the crust is cooked through. Edges will begin to pull away from sides of the pan. Rest for 15 minutes before slicing. Sprinkle with mint and cut into squares.
SYRIAN SALAD

This salad is served with the kibbeh and with many other Syrian dishes. Syrian cucumbers are the small, crunchier type, sometimes called Persian, rather than the larger English variety. You can omit the yogurt and if so, increase the lemon juice to 1 tbsp (15 mL).

DRESSING
2 tbsp (30 mL) thick yogurt
2 tbsp (30 mL) olive oil
2 tsp (10 mL) lemon juice
2 tsp (10 mL) chopped fresh mint
½ tsp (2 mL) ground cumin
Salt and freshly ground pepper

VEGETABLES
3 tomatoes, chopped
4 small cucumbers, chopped
4 green onions, thinly sliced
3 tbsp (45 mL) chopped Italian parsley
1 green pepper, diced (optional)
1. Combine yogurt, olive oil, lemon juice, mint and cumin in a mixing bowl until smooth. Season to taste with salt and pepper. Toss with tomatoes, cucumber, green onion, parsley and green pepper (if using).
BAHARAT SPICE MIXTURE

Make your own Baharat Spice Mixture with this recipe. Store-bought versions are often sold as seven-spice mixture and are available online and in Middle Eastern grocery stores.

2 tsp (10 mL) ground allspice
2 tsp (10 mL) ground cumin
1 tsp (5 mL) freshly ground pepper
1 tsp (5 mL) ground coriander
½ tsp (2 mL) cinnamon
½ tsp (2 mL) ground nutmeg
½ tsp (2 mL) ground cardamom
¼ tsp (1 mL) ground cloves
1. Combine all the spices. Keep in an airtight container in the cupboard for up to 6 months. Makes about 3 tbsp (45 mL)
SHARE