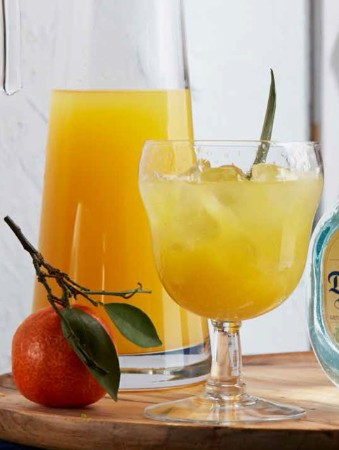 BY: Eric Vellend
One of the many riffs on a Margarita, The Matador is softer and less boozy than the mother drink, making it far more suitable for midday sipping. If you're not a fan of tequila, this drink may win you over, though it can also be made with vodka or white rum instead.
1 cup plus 2 tbsp (250 mL plus 30 mL)
100% agave tequila
2¼ cups (560 mL) pineapple juice
6 tbsp (90 mL) strained fresh lime juice, from 2 or 3 limes
1 tbsp (15 mL) Simple Syrup (recipe follows)
6 pineapple wedges and 6 trimmed pineapple leaves to garnish, optional
1 In a glass pitcher or jar, stir together tequila, pineapple juice, lime juice and Simple Syrup. Cover tightly and refrigerate up to 24 hours in advance.
2 For each drink, stir the mixture and pour 5 oz into a cocktail shaker. Fill three-quarters with ice. Shake until ice cold, about 10 seconds. Strain into a white wine glass and serve straight up or on the rocks. Garnish with pineapple wedge and/or leaf, making sure tip of leaf is pointing outwards, away from rim of glass.
SIMPLE SYRUP
Combine equal parts boiling water and sugar, stir until sugar has dissolved, and store in fridge until chilled.
SHARE