Sweet & Spicy Mixed Nuts
Holiday 2016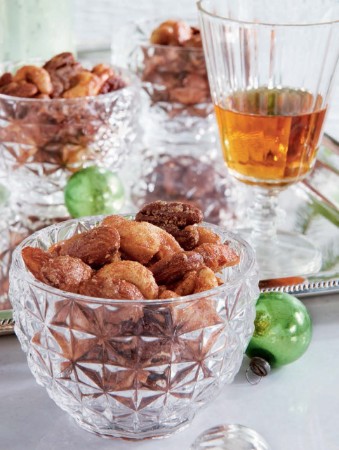 Sweet & Spicy Mixed Nuts
Holiday 2016
BY: Eric Vellend
Salty, sweet, smoky and spicy, these crunchy nuts are the perfect nibble for the first round of cocktails. They also make a terrific hostess gift. Chipotle powder is made from red jalapeños that have been smoked dried. You could substitute cayenne pepper for chipotle, but use less as it delivers more heat.
¼ cup (60 mL) granulated sugar
¼ cup (60 mL) dark brown sugar
1 tsp (5 mL) smoked paprika
¾ tsp (4 mL) ground chipotle powder
¾ tsp (4 mL) fine sea salt
1 large egg white
1 cup (250 mL) whole almonds
1 cup (250 mL) pecan halves
1 cup (250 mL) raw, unsalted cashews
1 Preheat oven to 300°F (150°C). Line a baking sheet with parchment paper.
2 In a small bowl, mix sugars, paprika, chipotle powder and salt until evenly distributed.

3 In a large mixing bowl, whisk egg white until frothy. Stir in nuts until evenly coated. Sprinkle sugar mixture over nuts. Stir to coat evenly. Place nuts in single layer on prepared sheet.

4 Bake nuts on middle rack until browned and fragrant, 30 to 35 minutes. Remove from oven. Cool completely, carefully breaking nuts apart as they cool. Store in an airtight container in a cool, dry place for up to 1 week.
SHARE