Strawberries Romanoff
Hiver 2009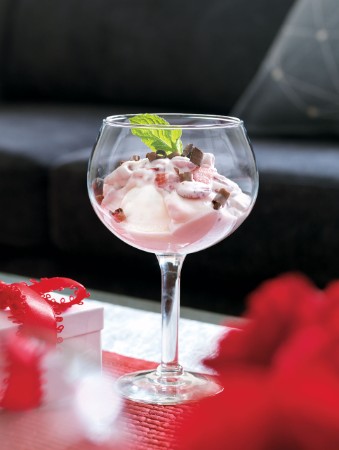 Strawberries Romanoff
Hiver 2009
BY: Tonia Wilson-Vuksanovic
This decadent dessert is exceptionally easy to make and incorporates the yummiest things of Valentine's Day―strawberries and cream, with a sprinkling of chocolate for good measure.
2 cups (500 mL) strawberries, washed, hulled and thinly sliced
2 tbsp (25 mL) orange liqueur (i.e. Grand Marnier, Cointreau or Triple Sec)
2 tbsp (25 mL) sugar
1 tsp (5 mL) vanilla extract
½ cup (125 mL) 35% cream, chilled
2 scoops vanilla ice cream
Chocolate shavings and fresh mint for garnish
1. In a medium bowl, stir together strawberries, liqueur and sugar. Let rest in refrigerator for 30 minutes to allow juices to release and sugar to dissolve.

2. When strawberries are ready, prepare the cream. In a small bowl beat vanilla and cream together until stiff peaks form; do not overbeat or the cream will separate and be spoiled.

3. Gently fold strawberry mixture into whipped cream.

4. Place a scoop of ice cream in each of 2 dessert bowls or wine goblets. Top each with strawberry mixture and sprinkle with chocolate shavings and a sprig of fresh mint.
SHARE