Splash of Pink
Printemps 2011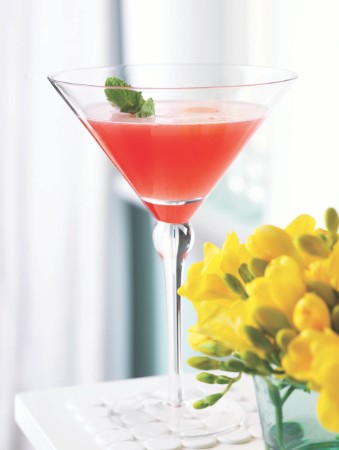 Splash of Pink
Printemps 2011
BY: Dee Gibson, Gibson & Lyle, Caterer
Rhubarb is a herbaceous perennial plant that is usually associated with pies and jams. The flavour makes you think of spring gardens.
1½ cups (375 mL) vodka
¼ cup (50 mL) Grand Marnier
2 cups (500 mL) rhubarb simple syrup (see TIP)
Juice of 4 limes
Mint for garnishing
1 In a pitcher filled with ice, add all ingredients and stir. Strain into cocktail glasses and garnish with mint.

TIP: To make rhubarb simple syrup, bring 1 bunch rhubarb, 3 cups (750 mL) sugar and 3 cups (750 mL) water to a boil in a saucepan and boil for 5 minutes. Strain through sieve and let cool. Store in refrigerator for up to 2 weeks.
SHARE