Spicy Tofu Bibimbap
Été 2019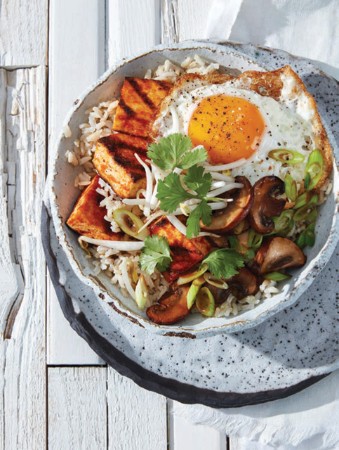 Spicy Tofu Bibimbap
Été 2019
BY: Jennifer MacKenzie
Even if you don't have those smoking hot traditional Korean dolsot stone bowls (but hey, if you do, fire them up!), bibimbap topped with sautéed veggies and Spicy Grilled Tofu, fried egg and kimchi will make a smokin' hot dinner.
¾ cup (175 mL) long-grain brown or white rice
Salt
¼ cup (60 mL) natural rice vinegar, divided
2 tbsp (30 mL) canola oil, divided
1 lb (455 g) mushrooms, sliced
Salt and freshly ground pepper
4 green onions, thinly sliced
4 leftover Spicy Grilled Tofu Skewers
4 eggs
1 cup (250 mL) bean sprouts or radish sprouts or shredded spinach
¼ cup (60 mL) fresh cilantro leaves, torn Kimchi (store-bought)
1 Cook rice with salt according to package directions. Sprinkle with 2 tbsp (30 mL) of the rice vinegar, cover and let stand for 5 minutes. Fold gently with a spatula. 

2 Meanwhile, heat 1 tbsp (15 mL) of the oil in a large nonstick skillet over medium-high heat. Add mushrooms, ½ tsp (2 mL) salt and pepper to taste. Cook, stirring, for about 8 minutes or until liquid is released and mushrooms start to brown. Add green onions and tofu and cook, stirring, for about 3 minutes or until tofu is hot. Transfer to a bowl. Add remaining rice vinegar to skillet and stir to scrape up brown bits. Pour over mushroom mixture.

3 Return skillet to medium-low heat and add remaining oil. Crack each egg into skillet and season with salt and pepper. Fry just until browned around the edges and yolk starts to set, or to desired doneness, flipping for overeasy or over-hard, if you like. Remove from heat.

4 Divide rice among warmed individual serving bowls. Arrange tofu mixture, bean sprouts, cilantro and kimchi on rice, then top with fried eggs.
SHARE