Southern Barbecue Ribs with Squash and Mushroom Succotash Salad
Early Summer 2018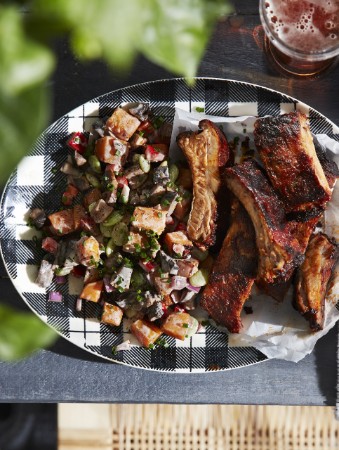 Southern Barbecue Ribs with Squash and Mushroom Succotash Salad
Early Summer 2018
BY: Lucy Waverman
These ribs are South Carolina-style, where vinegary sauces supersede sweeter ketchup-based ones. Bake the racks until tender then finish on the barbecue, brushing with the sauce. Serve them over the room-temperature succotash salad. It is a perfect match.
DRY RUB
1 tbsp (15 mL) smoked paprika
1 tbsp (15 mL) chili powder
1 tbsp (15 mL) brown sugar
2 tsp (10 mL) dry mustard
2 tsp (10 mL) garlic powder
1 tsp (5 mL) dried thyme
1 tsp (5 mL) kosher salt
½ tsp (2 mL) freshly ground pepper
2 racks of pork side ribs, about 4 lbs (1.81 kg)

SOUTHERN BBQ SAUCE
2 tbsp (30 mL) vegetable oil
2 cups (500 mL) canned tomatoes
1 cup (250 mL) chopped onion
1 tsp (5 mL) chopped garlic
1 tbsp (15 mL) brown sugar
2 tsp (10 mL) chili powder
1 tsp (5 mL) freshly ground black pepper
1 tsp (5 mL) dry mustard
1 tsp (5 mL) smoked paprika
1 tsp (5 mL) ground cumin
¼ tsp (1 mL) cayenne
¾ cup (175 mL) apple cider vinegar
1 Preheat oven to 325°F (160°C).

2 Combine ingredients for dry rub and sprinkle all over ribs.

3 Place ribs on a baking sheet, cover with foil and bake until tender, about 2 to 2½ hours.

4 For sauce, heat 2 tbsp (30 mL) oil in a saucepan while ribs are baking. Add tomatoes and onion and sauté for 5 minutes or until onions are tender. Add garlic and cook until fragrant, about 30 seconds.

5 Stir in sugar, chili powder, pepper, dry mustard, smoked paprika, cumin and cayenne. Add cider vinegar and bring to boil. Reduce heat and simmer for 25 to 30 minutes, or until onions and tomatoes are meltingly soft. Place in a blender or use a hand blender and combine until smooth. Reserve.

6 Once ribs are baked, preheat barbecue to about 300°F (150°C) with all burners on low. Baste the ribs with the BBQ sauce and place on grill, continuing to baste every 10 minutes until ribs are full-flavoured and tender, about 30 minutes. Place Squash and Mushroom Succotash Salad on a platter. Cut ribs into pieces and serve with any remaining sauce for dipping.


SQUASH AND MUSHROOM SUCCOTASH SALAD
This salad of mushrooms, squash and lima beans is inspired by Southern succotash, a melange of corn, lima beans, tomatoes and peppers. The vegetables hold their own with the succulent Southern Barbecue Ribs and the salad is made ahead of time. Buttermilk vinaigrette is a Southern staple and keeps for five days, refrigerated. Using sherry vinegar gives a flavour boost.
2 tbsp (30 mL) vegetable oil
1 small butternut squash, peeled and diced, about 5 cups (1.25 L)
4 large portobello mushrooms, diced
1 cup (250 mL) defrosted lima beans or edamame
½ red onion, diced
1 cup (250 mL) chopped red bell pepper
BUTTERMILK VINAIGRETTE
¼ cup (60 mL) buttermilk
2 tbsp (30 mL) mayonnaise
2 tbsp (30 mL) chopped chives
2 tsp (10 mL) sherry vinegar
Salt and freshly ground pepper
1 Heat oil in sauté pan over medium-high heat. Add squash and sauté until just starting to brown, about 5 minutes. Add mushrooms and continue to toss until mushrooms just begin to give off their juice. Reduce heat to medium, cover pan and cook for 5 minutes or until squash is tender. Stir in lima beans and remove to a large bowl. Stir in red onion and red pepper. Cool.
2 Whisk together buttermilk and mayonnaise until combined. Whisk in chives and vinegar. Season with salt and pepper. Toss with salad just before serving.
SHARE