Soft-Boiled Eggs with Various Dippers
Printemps 2005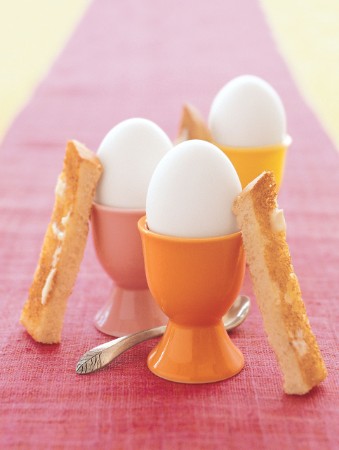 Soft-Boiled Eggs with Various Dippers
Printemps 2005
BY: Jennifer McLagan
As children, we ate our soft-boiled eggs with thin fingers of toast called toast soldiers. I have no idea why they were called soldiers, but it was fun to dip the toasted bread into the runny yolk. I thought this was peculiarly British until I was served soft-boiled eggs and toast soldiers with my aperitif in the Aubrac region of France. I was at the three-Michelin-star restaurant of Michel Bras. His toast soldiers were a step above mine, topped with either grilled porcini mushrooms or the local Laguiole cheese, definitely three-star fare.
1. To cook the eggs: simmer instead of boiling. Slip room-temperature eggs into simmering water and simmer 3 ½ to 4 minutes, turning occasionally to centre the yolks. Remove eggs from the water and set in egg cups. Serve with a selection of dippers.

Toast Soldiers
4 slices of toasted good-quality white bread spread with
unsalted butter and cut into thin strips.

Asparagus Dippers
16 cooked asparagus spears

Anchovy Butter
¼ cup (50 mL) unsalted butter, softened
3 anchovy fillets, rinsed
Zest of ½ lemon
2 tsp (10 mL) lemon juice cooked asparagus spears
1. Place all the ingredients together in a food processor and blend. Spread on hot toast.



Cheese Toasts
4 slices of mountain cheese, like Cantal, Salers or Gruyère
4 slices of bread toasted on 1 side only
1. Place the cheese on the untoasted side of bread and broil cheese-side up until melted. Cut into fingers.
SHARE