Slow-Cooked Lamb Shanks
JANUARY 2017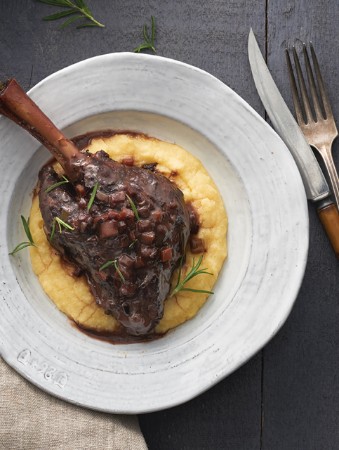 Slow-Cooked Lamb Shanks
JANUARY 2017
BY: Giacomo Pasquini
Set your slow cooker in the morning and your lamb shanks will be at their best by day's end for a spectacular weeknight supper.
4 lamb shanks, about 3 lb (1.5 kg) in total
Salt and pepper to taste
½ cup (125 mL) extra-virgin olive oil, preferably PDO, divided
2 cups (500 mL) finely chopped carrots
2 cups (500 mL) finely chopped onion
1 leek, white part only, finely chopped
6 cloves garlic
2½ tbsp (40 mL) finely chopped rosemary
2½ tbsp (40 mL) finely chopped thyme
1 bay leaf
2½ cups (625 mL) beef broth
1½ cups (375 mL) red wine
1. Season lamb with salt and pepper. Heat 2 tbsp (30 mL) of oil in a large heavy-bottomed pan over medium-high heat. Sear lamb on all sides, cooking in batches and adding more oil as needed, until browned, about 10 minutes.
2. Place lamb in a slow cooker. Add carrots, onion, leek, garlic, rosemary, thyme and bay leaf. Pour in remaining oil, broth and wine. Cover and cook until lamb is very tender, about 4 hours on high heat or 8 hours on low. Delicious served with herbed polenta, risotto or mashed potatoes.
SHARE