Saigon Cinnamon Ladyfingers
Temps des Fêtes 2016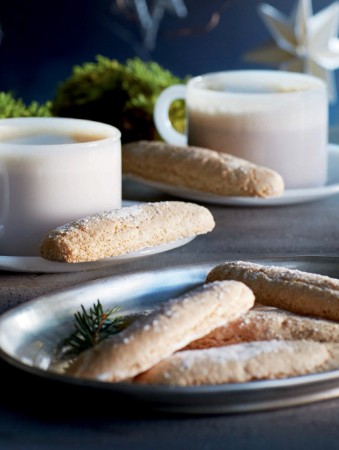 Saigon Cinnamon Ladyfingers
Temps des Fêtes 2016
BY: Joanne Yolles
Ladyfingers are typically used as a component in desserts such as tiramisu or trifle. Here, however, Saigon cinnamon, an extra-spicy and sweeter form of cinnamon, transforms them into something a little more interesting and complex that can stand alone. Handle the mixture gently so it doesn't deflate and have your baking sheets and piping bag at the ready so the batter can be piped right away. For those who prefer their ladyfingers on the crunchier side, as opposed to more cake-like, extend the baking time by about 10 minutes.
¾ cup (175 mL) cake flour
1 tsp (5 mL) plus heaping ¼ tsp (1 mL plus) Saigon cinnamon
⅓ cup (80 mL) icing sugar
4 eggs, separated
½ cup (125 mL) sugar, divided
1 tsp (5 mL) vanilla
Pinch of salt
1 Place the oven racks in the middle position and preheat the oven to 350°F (180°C). Line 2 sheet pans with parchment paper and set aside. Fit a pastry bag with a ½-inch (1-cm) plain tip and set aside.

2 Sift together the cake flour and 1 tsp (5 mL) cinnamon and set aside.

3 Sift together the icing sugar and heaping ¼ tsp (1 mL plus) cinnamon and set aside.

4 Place the egg yolks in the bowl of an electric mixer fitted with the whisk attachment. Whip in ¼ cup (60 mL) of the sugar in a slow stream followed by the vanilla. Continue whipping until the mixture is very light and lemon-coloured and has tripled in volume, at least 5 minutes.

5 In a clean bowl, with a clean whisk attachment, begin whipping the egg whites and salt on medium speed until they are white and begin to hold their shape. Increase the speed to high and add the remaining ¼ cup (60 mL) sugar in a slow steady stream. Continue beating to stiff peaks.

6 Fold the yolk mixture into the beaten whites gently but thoroughly, so the mixture retains its volume and just until no streaks are visible.

7 Sift one-quarter of the cinnamon flour over the egg mixture and fold with a large rubber spatula, scraping all the way to the bottom of the bowl and around the sides to prevent the flour from clumping. Repeat with 3 more additions of the remaining flour just until combined.

8 Transfer the batter to the piping bag and, holding the bag at a 45-degree angle, pipe out 3½-inch (9-cm) fingers spacing them about ½ inch (1 cm) apart.

9 Sift the cinnamon icing sugar generously over the fingers and bake immediately for about 15 minutes or just until firm and springy to the touch.

10 Cool on a wire rack and remove with a metal spatula. Softer lady fingers are best the day they are made, but can be stored at room temperature in a sealed container for 2 to 3 days.
SHARE