Rooibos Peach Blackberry Shortcake
Été 2007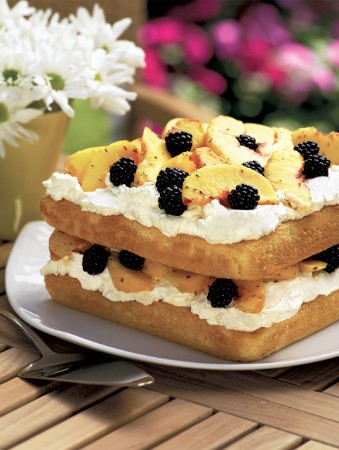 Rooibos Peach Blackberry Shortcake
Été 2007
BY: Anna Olson
Shortcake isn't just for strawberry season! A tender, light sponge cake and a lime-scented, cheesecake-like cream set off summer's finest fruits all season long. Peaches and blackberries are at their peak at the same time, and make a stunning combination on your plate and on your palate. The extra twist of Rooibos tea adds a sophisticated dimension of flavour, and tea infused into desserts is a popular trend. The fruity earthiness of Rooibos, which is available in a number of flavour blends, highlights the delicate fruit flavours. If this tea is not available, the recipe is just as tasty on its own.
Cake
3 tbsp (45 mL) 2% milk
2 tbsp (25 mL) unsalted butter
½ tsp (2 mL) vanilla extract
2 tsp (10 mL) finely grated lime zest
5 large eggs, room temperature
¾ cup (175 mL) sugar
½ cup (125 mL) cake and pastry flour
¼ cup (50 mL) all-purpose flour
1 tsp (5 mL) baking powder
¼ tsp (1 mL) fine salt


Cream
1 cup (250 mL) whipping cream
1 tbsp (15 mL), or 2 bags Rooibos tea, any flavour (optional)
6 oz (175 g) cream cheese, room temperature
5 tbsp (75 mL) sugar
2 tbsp (25 mL) lime juice
2 tsp (10 mL) finely grated lime zest
2 tsp (10 mL) vanilla extract


Fruit
2 cups (500 mL) peeled and sliced peaches
1 tbsp (15 mL) sugar
1 tbsp (15 mL) lime juice
½ tsp (2 mL) loose Rooibos tea, any flavour (optional)
1 cup (250 mL) fresh blackberries
1. Preheat oven to 350ºF (180ºC).

2. Grease and line bottoms of two 8-inch (20-cm) square cake pans with parchment, then grease and flour again, tapping out excess.

3. Heat milk and butter until butter is melted. Stir in vanilla and lime zest and cover to keep warm. Separate 3 whites (reserving yolks) and beat them in a bowl with 6 tbsp (90 mL) of sugar until they hold a soft peak (whites curl when beaters are lifted) and set aside. In another bowl, whip reserved 3 yolks and remaining 2 whole eggs and beat with remaining 6 tbsp (90 mL) of sugar until thick and pale in colour, about 8 minutes. Fold whipped whites into whole egg mixture.

4. Sift flours, baking powder and salt and add to whipped eggs in 3 additions, folding gently but quickly. Spoon about ¾ cup (175 mL) of batter into warm milk mixture and stir to blend. Add back to batter and fold in quickly but gently. Scrape batter into prepared pans and bake for about 30 minutes, until cake springs back readily when pressed. Run a knife around the edges of the cake to loosen and allow cake to cool for 15 minutes before tipping out to cool completely.

5. For cream, heat whipping cream on low heat with Rooibos tea, if using, for 5 minutes, until flavour is infused. Remove tea bag and chill cream completely

6. Prepare cream filling when ready to assemble cake (as cream will set). Whip cream to soft peaks and chill. Beat cream cheese until smooth and add sugar, lime juice, zest and vanilla. Stir in whipped cream.

7. For fruit, toss peaches with sugar, lime juice and loose Rooibos tea.

8. To assemble, place 1 cake layer on a serving plate. Spread half of cream over cake and top with half the peaches and blackberries. Place second cake layer over fruit and repeat with cream and fruit. Chill until ready to serve.

9. Cake can be assembled up to 4 hours before serving.
Makes an 8-inch (20-cm) square cake, serves 12
SHARE