Roasted Garlic & Crispy Sage Fava Bean Mash
Holiday 2018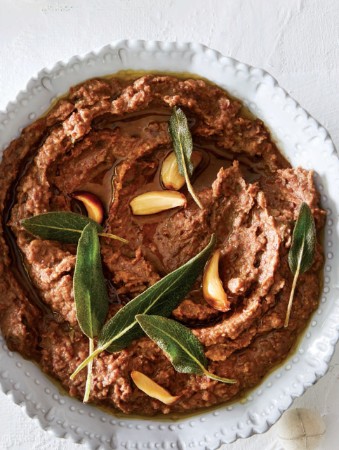 Roasted Garlic & Crispy Sage Fava Bean Mash
Holiday 2018
BY: Irene Matys
A holiday side inspired by the Middle East, this dish's fava beans are mild and become creamy when whipped for a velvety texture. Adding roasted garlic and sage makes it a delicious substitute for the traditional mashed potato.
ROASTED GARLIC
1 whole head of garlic
1 tbsp (15 mL) extra virgin olive oil

CRISPY SAGE
¼ cup (60 mL) olive oil
1 bunch sage leaves, reserving 6 leaves

FAVA BEAN MASH
2 cans (each 540 mL; total of 1,080 mL) fava beans
2 tbsp (30 mL) extra virgin olive oil, divided
6 fresh sage leaves, thinly sliced
Salt and freshly ground pepper to taste
1. To make roasted garlic, preheat oven to 400°F (200°C).

2. Peel away all the loose outer layers around the head of garlic. Trim about ¼ inch (5 mm) off the top of the head to expose the tops of the cloves. Drizzle with olive oil over the exposed surface, letting the oil drip down into the cloves. Wrap in aluminum foil and roast in the oven for 40 to 45 minutes until soft and golden.

3. To make crispy sage, heat oil in a small skillet over medium heat. Carefully add sage leaves to oil, do not overcrowd skillet. Fry sage for 1 to 2 minutes until crispy. Remove with fork and place on plate lined with paper towel. Repeat with remaining sage leaves.

4. Place fava beans with their liquid in a medium- size saucepan. Bring to a boil, reduce heat and simmer for 2 minutes. Pour fava beans and liquid in a food processor and blend until slightly creamy. Place fava bean purée in a medium serving bowl. Mix in 1 tbsp (15 mL) oil, half of the roasted garlic cloves and fresh sage and season with salt and pepper. Drizzle with remaining 1 tbsp oil (15 mL) and top with remaining roasted garlic cloves and crispy sage.
SHARE