Roasted Chicken Breast with Fingerling Potatoes, Morel Mushrooms and Green Onions
Printemps 2005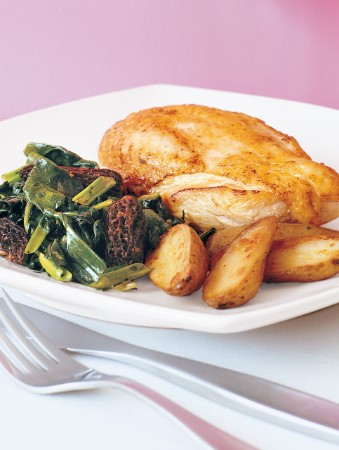 Roasted Chicken Breast with Fingerling Potatoes, Morel Mushrooms and Green Onions
Printemps 2005
BY: Lucy Waverman
A delightful all-in-one main course featuring golden roasted chicken breasts surrounded by a spring-like vegetable garnish. If morels are not available use trimmed oyster or shiitake mushrooms.
1 lb (500 g) fingerling potatoes, halved lengthwise
¼ cup (50 mL) olive oil
Salt and freshly ground black pepper
Four 6 oz (175 g) boneless chicken breasts, skin on
2 tbsp (25 mL) butter
¼ cup (50 mL) finely chopped onion
4 oz (125 g) morel mushrooms
1 cup (250 mL) green onions, cut into 1-inch (2.5-cm) pieces on the bias
2 cups (500 mL) packed baby spinach
1 tsp (5 mL) chopped fresh thyme
¼ cup (50 mL) chopped parsley
1. Preheat oven to 350ºF (180ºC).

2. Toss fingerling potatoes with 1 tbsp (15 mL) olive oil. Season with salt and pepper. Place potatoes cut-side down on baking sheet and roast in oven for 20 to 30 minutes or until golden. Remove and keep warm.

3. Season the chicken breasts with salt and freshly ground pepper. Heat 1 tbsp (15 mL) oil in ovenproof skillet or sauté pan over medium-high heat. Sear the chicken breasts, skin-side down, for about 4 minutes, or until golden brown. Turn over and place skillet in oven for 12 to 15 minutes, or until chicken is cooked through.

4. Prepare garnish while chicken is cooking. In a large skillet over medium-high heat, add remaining 2 tbsp (25 mL) olive oil and butter. Add morels and finely chopped onions, sauté for 2 minutes. Add the green onions, spinach and herbs. Toss well. Cook for 1 to 2 minutes or until spinach is just wilted. Season to taste. Serve with roasted chicken breast and fingerling potatoes.
SHARE