Poke Parfait
Early Summer 2017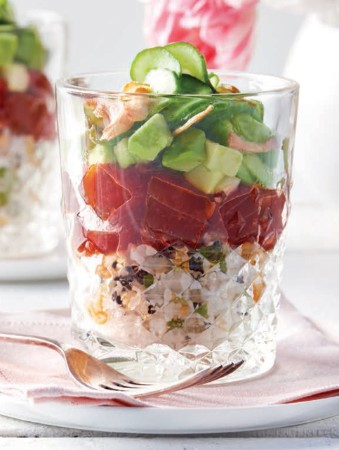 Poke Parfait
Early Summer 2017
BY: Eshun Mott
Poke is a Hawaiian dish that is having a moment. Essentially a salad composed of chopped dressed raw fish with a variety of garnishes, poke generally has Japanese-inspired flavourings, and this layered version is no exception. You can make all the different parts of this parfait a few hours ahead of time, but do not marinate the tuna, cut the avocado or assemble the layers until just before serving.
2 tbsp (30 mL) canola oil
¼ cup (60 mL) thinly sliced garlic cloves
Salt

RICE
1 cup (250 mL) short-grain sushi rice
1 cup plus 2 tbsp (280 mL) water
2 tbsp (30 mL) seasoned rice vinegar
1 tbsp (15 mL) each toasted black and white sesame seeds
½ cup (125 mL) finely chopped green onion

PICKLED CUCUMBER
3 tbsp (45 mL) white vinegar
1 tsp (5 mL) sugar
1 tsp (5 mL) kosher salt
4 mini cucumbers, thinly sliced

TUNA
¼ cup (60 mL) soy sauce
2 tbsp (30 mL) toasted sesame oil
1 tsp (5 mL) honey
1 tsp (5 mL) sriracha
1 tsp (5 mL) finely grated fresh ginger
¼ cup (60 mL) chopped sweet onion
1 lb (500 g) sushi grade tuna loin, cut into ½ inch (1 cm) dice
2 large avocados, cut into ½ inch (1 cm) dice
1. Heat oil in a frying pan over medium-low heat. Add garlic and fry, turning as needed, for 3 to 5 minutes or until golden and crisp. Drain on paper towels and season with a pinch of salt. Reserve.

2. Rinse sushi rice until water runs clear. Drain well. Place in a pot with 1 cup plus 2 tbsp (280 mL) water and bring to a boil. Cover pot, turn heat to low, and cook for 15 minutes or until rice is tender. Remove from heat and let steam for 5 minutes longer. Add rice vinegar. Scrape into a bowl and place a kitchen towel over the bowl to absorb some of the steam as the rice cools. Once rice has cooled, stir in sesame seeds and green onion. Divide rice between glasses.

3. Combine vinegar, sugar and salt in a bowl. Add cucumbers and toss to combine. Let stand 10 to 30 minutes or until cucumbers have softened and are lightly pickled. Drain.

4. Combine soy sauce, sesame oil, honey, sriracha, ginger and onion. Add tuna and toss to coat. Divide between glasses.

5. Season diced avocado with salt and divide between glasses. Top with cucumber and garlic chips.
SHARE