Poached Eggs, Miso Grits, Collards & Bacon
Holiday 2018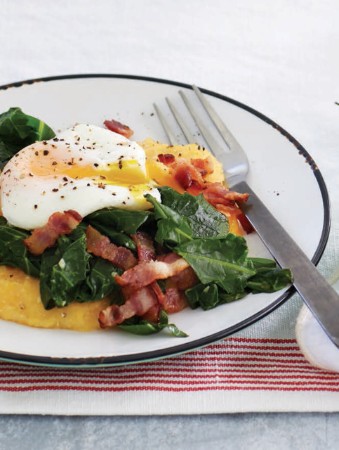 Poached Eggs, Miso Grits, Collards & Bacon
Holiday 2018
BY: Eric Vellend
Creamy, miso-boosted grits are topped with garlicky collards, crisp bacon and soft poached eggs. Since Canadians have yet to embrace grits, Bob's Red Mill's organic corn grits are the most widely available option. Briefly draining an egg in a sieve to remove the excess watery white before poaching is a trick from chef Heston Blumenthal that eliminates those ragged edges.
2 bunches collard greens, about 2 lbs (905 g) total
4 very fresh large or extra-large eggs
¼ cup (60 mL) white miso, or less to taste
½ cup (125 mL) hot water
3½ cups (875 mL) cold water
1 cup (250 mL) coarsely ground cornmeal, preferably Bob's Red Mill organic corn grits
¼ lb (115 g) thick-slice bacon, cut crosswise into ¼ inch (5 mm) pieces
2 cloves garlic, minced
1 tsp (5 mL) cider vinegar
Salt and freshly ground pepper to taste
1. Remove and discard collard stems. Stack leaves and cut into 1-inch (2.5-cm) ribbons. Wash in a large bowl of cold water, swirling to let dirt settle on bottom. Lift collards out of water and transfer to another large bowl.

2. Bring a large pot of salted water to a boil. Add collards. Cook, stirring occasionally, until tender, 5 to 7 minutes. Drain. Transfer to a baking sheet lined with paper towel. Cool completely. Transfer to airtight container and refrigerate up to 2 days.

3. Pour enough water into a large nonstick frying pan to come up 1 inch (2.5 cm). Place over medium heat. While it's heating, carefully crack eggs into individual ramekins. When water reaches 180°F (82°C) on an instant-read thermometer—bottom of pan will be covered in small bubbles with a few floating to surface— turn off heat. Working 1 at a time, briefly swirl eggs in a sieve to remove watery part of white then carefully tip egg into water. Once all the eggs are in, cover and let stand 5 minutes. Working 1 a time, loosen egg from bottom of pan with a thin nylon spatula then remove from water with a slotted spoon and transfer to bowl of cold water. Cover and refrigerate up to 1 day.

4. In a small bowl, whisk miso and hot water until smooth. Pour into a 3-quart (3-L) saucepan with cold water. Bring to a boil over high heat. Reduce heat to medium and slowly whisk in cornmeal. Whisk constantly until mixture is thickened and spitting, about 3 minutes. Reduce heat to maintain the barest simmer. (It should occasionally bubble.) Cook, stirring occasionally at beginning and more frequently at end, until thick and creamy but still spoonable, about 20 minutes.

5. While grits are cooking, heat bacon in a large nonstick frying pan over medium heat. Cook, stirring, until browned and crisp, 12 to 15 minutes. Remove with a slotted spoon and drain on paper towel. Add garlic to pan and cook 1 minute. Add cooked collards, and stir until heated through, 4 to 5 minutes. Stir in vinegar and season with salt and pepper.

6. When grits and collards are almost done, carefully drain eggs and transfer to bowl of hot water to reheat for about 3 minutes.

7. To serve, spoon grits into warmed bowls. Top with some collards, crisp bacon and an egg. Pierce yolks, if desired. Serve immediately.
SHARE