Pineapple Bundles with Cilantro-Lime Dip
Début de l'été 2016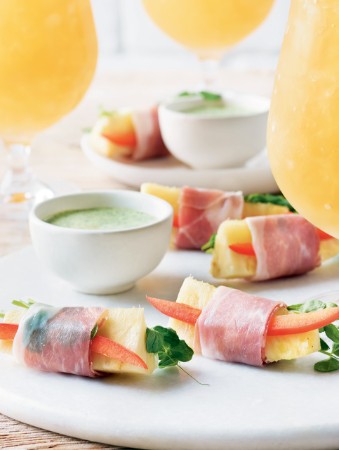 Pineapple Bundles with Cilantro-Lime Dip
Début de l'été 2016
BY: Eric Vellend
For a vegetarian/vegan version of this tropical hors d'oeuvre, omit the ham and tie the bundles with chives that have been blanched in boiling water for a few seconds then refreshed in ice water. The recipe calls for more prosciutto than you will probably need, but since it falls apart easily, it's better to play it safe.
CILANTRO-LIME DIP
1 can (400 mL) light coconut milk
1 clove garlic, chopped
1 jalapeño pepper, seeded, chopped
1 cup (250 mL) cilantro leaves, lightly packed
1 tbsp (15 mL) fresh lime juice
Salt to taste

PINEAPPLE BUNDLES
½ ripe pineapple, peeled, cored
½ large red pepper, trimmed
2 cups (500 mL) pea shoots
12 small or 6 large thin slices prosciutto
1 For the cilantro-lime dip, empty can of coconut milk into a mixing bowl. Whisk vigorously until all cream is incorporated evenly into liquid. (This prevents the coconut milk from separating when you make the sauce.) Measure out 1 cup (250 mL) and save rest for another use.

2 Place cup of coconut milk, garlic, jalapeño, cilantro, lime and salt in a blender. Blend until smooth. (Dip will keep, covered and refrigerated, for 3 days. The colour will dull over time, but it will still taste fine.)

3 For the pineapple bundles, cut pineapple into twenty-four 3 x 1 x ½-inch (8 x 2.5 x 1-cm) pieces. Cut peppers into twenty-four 3-inch (8-cm) strips. Trim pea shoots from bottoms to 3-inch (8-cm) lengths. Cut prosciutto into twenty-four 7 x 1¼-inch (18 x 3-cm) strips.

4 To form bundles, lay down strip of prosciutto. Place pineapple spear perpendicular to prosciutto about two-thirds of the way down. Top pineapple with 1 pepper strip and about 4 pea shoots. Wrap bundle and repeat. (Bundles will keep, covered with damp paper towel and plastic wrap, and refrigerated, for up to 4 hours.)

5 Transfer bundles to serving platter and place dip in bowl. Serve.
SHARE