Pignoli Brittle
Holiday 2009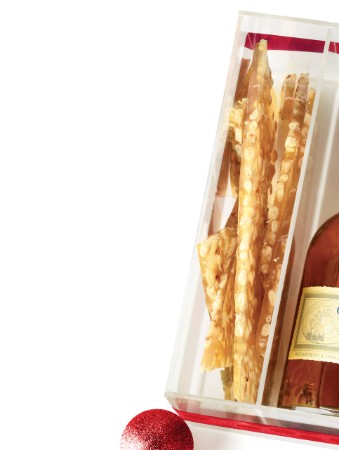 Pignoli Brittle
Holiday 2009
BY: Nicole Young
Pine Nuts give this brittle an exceptional taste. Look for European pine nuts, which are long and slender in appearance and have superior taste to shorter varieties. Give this as a whole piece or broken into dramatic shards and decoratively packaged.
2 tsp (10 mL) vegetable oil
4 cups (1 L) granulated sugar
½ cup (125 mL) water
⅛ tsp (0.5 mL) cream of tartar
2 cups (500 mL) toasted pine nuts
2 tbsp (25 mL) butter
1 tbsp (15 mL) vanilla
1. Brush oil over large rimmed baking sheet. Set aside.

2. In a large heavy saucepan, stir sugar, water and cream of tartar over low heat until the sugar has completely dissolved. Brush down the sides of the pan with a brush dipped in warm water (this will prevent the sugar from crystallizing). Increase heat to medium-high and bring to a boil. Place a candy thermometer in the pan and cook, without stirring, until candy thermometer registers 310°F (155°C), hard crack stage, about 20 minutes. Remove from heat.

3. With a lightly oiled wooden spoon, quickly stir in toasted pine nuts, butter and vanilla until blended. Scrape onto prepared pan and spread as thinly as possible. Let cool. Break into pieces. Can be stored up to 1 month, at room temperature, in a sealed container.
SHARE