Pepper Patch Infusion
Été 2007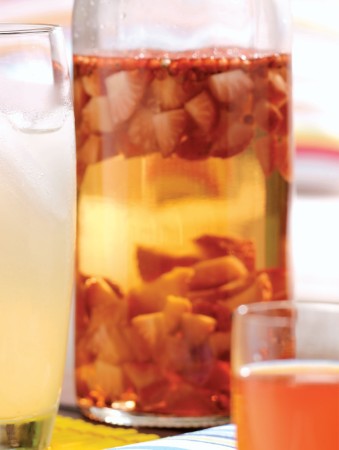 Pepper Patch Infusion
Été 2007
BY: Michelle P. E. Hunt and Laura Panter
The unique flavour of tequila is enhanced with spicy and sweet in this recipe, creating a summer spirit like no other. Use white tequila or gold tequila to create your infusion and try it in a Pinky Margarita, Yucatan Lemonade or Pink Sunset Shooter, (recipes follow).
1. To an infusion jar or lidded jar, add one 750 mL bottle tequila, 2 cups fresh strawberries, cleaned and chopped, and 1/8 cup pink peppercorns.

2. Infuse for 1 to 2 weeks, tasting midway to make sure it is not too peppery for your taste.

3. Open jar and stir to mix before straining and discarding fruit and peppercorns.


Pinky Margarita
1. In a cocktail shaker filled with ice, add 1oz Pepper Patch Infusion, 1 oz Cointreau and 1 oz lime juice.

2. Shake sharply and strain into a rocks glass with ice.

3. Garnish with a lime wheel.


Yucatan Lemonade
1. Fill a highball glass with ice. Add 1½ oz Pepper Patch Infusion and top with fresh lemonade.

2. Garnish with a fresh strawberry.


Pink Sunset Shooter
1. To a cocktail shaker filled with ice, add 1 oz chilled Pepper Patch Infusion, the juice of 1/8 fresh lemon and 1 tsp grenadine.

2. Shake and strain into 2 shot glasses.

3. Garnish with a lemon wedge dipped in sugar.
SHARE