Pecan Cinnamon Cupcakes
Printemps 2010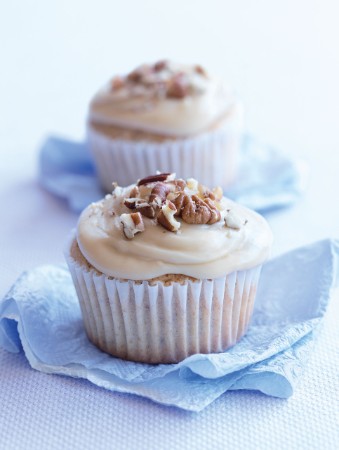 Pecan Cinnamon Cupcakes
Printemps 2010
BY: Marilyn Bentz-Crowley
Popular fresh cinnamon buns with pecans are the inspiration for this flavour combination.
Cupcakes
2 eggs
½ cup (125 mL) butter, softened
1 cup (250 mL) granulated sugar
½ tsp (2 mL) pure vanilla extract
2 cups (500 mL) sifted before measured cake and pastry flour
2 tsp (10 mL) baking powder
1½ tsp (7 mL) ground cinnamon
¼ tsp (1 mL) salt
¾ cup (175 mL) milk
¼ cup (50 mL) toasted pecans, finely chopped

Icing
¼ cup (50 mL) butter
½ cup (125 mL) brown sugar
¼ cup (50 mL) whipping cream
½ tsp (2 mL) vanilla
1¼ cups (300 mL) icing sugar
½ cup (125 mL) toasted pecans, coarsely chopped
1. Preheat oven to 375°F (190°C).

2. Line 12 muffin tin cups with paper or silicone liners. Place eggs in a small bowl; cover with hot tap water.

3. Beat butter with sugar until light and fluffy. Beat in eggs 1 at a time; then vanilla. Thoroughly mix sifted flour with baking powder, cinnamon and salt. Then sift or rub through a sieve again.

4. Alternately, in 2 batches, stir first flour mixture and then milk into butter mixture. Stir in finely chopped pecans. Divide batter among cups.

5. Bake in oven centre for 18 to 20 minutes or until a light golden and a cake tester inserted into middle of cupcake comes out clean. Cool on a rack.

6. To make icing, melt butter in a small saucepan over medium heat; add brown sugar and cream. Stirring occasionally, bring to a full rolling boil; boil 1 minute. Remove from heat and stir in vanilla; cool 15 minutes in pan on a rack without stirring.

7. Stir in icing sugar until smooth. Immediately ice cooled cupcakes as frosting sets within minutes. Decoratively press a few pecan pieces into icing while soft. Covered, cupcakes keep well for 2 to 3 days at room temperature.
SHARE