Pear & Brandy Warmer with Walnut Cream
Autumn 2014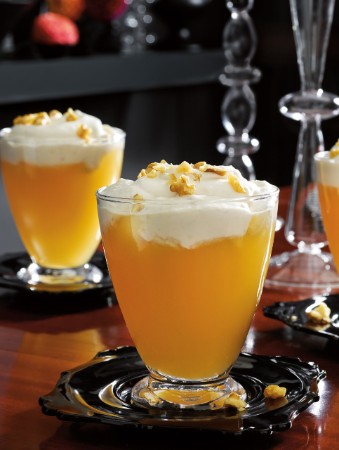 Pear & Brandy Warmer with Walnut Cream
Autumn 2014
BY: Christopher St. Onge
Cozy evenings indoors invite you to linger a little longer than planned. Finish the evening with this delicious, nutty warmer before heading out into the chill.
3½ cups (875 mL) pear nectar
⅔ cup (150 mL) water
½ cup (125 mL) brandy
⅓ cup (80 mL) Grand Marnier
½ cup (125 mL) chopped toasted walnuts
1 cup (250 mL) whipping cream
2 tbsp (30 mL) brown sugar
½ tsp (2 mL) vanilla extract
1 In a medium saucepan over medium heat, combine pear nectar, water, brandy and Grand Marnier. Warm until steaming but not boiling.

2 Meanwhile, very finely chop ¼ cup (60 mL) walnuts; set aside. In a medium bowl, combine whipping cream, brown sugar and vanilla. Using an electric mixer, beat until stiff peaks form; fold in finely chopped walnuts.

3 Ladle warmer into 6 heatproof mugs and top each with a generous spoonful of the walnut cream. Garnish with additional toasted walnuts.
SHARE