Pan Con Tomate Crostini with Manchego
Early Summer 2018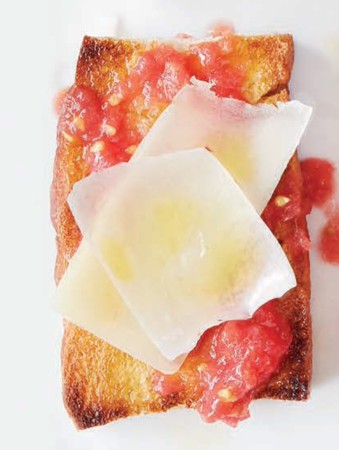 Pan Con Tomate Crostini with Manchego
Early Summer 2018
BY: Eric Vellend
Omit bacon and arugula. Top each crostini with a thin slice or two of Manchego. You will need approximately 2 oz (60 g) of Manchego in total.
Pan Con Tomate Crostini with Bacon & Arugula

One of Catalonia's greatest gifts to gastronomy, this Spanish-style bruschetta is easy to make in great quantity to feed a crowd. Be sure to toast the bread well and brush generously with olive oil to keep it from going soggy. Pan con tomate is also excellent topped with cured ham, white anchovies or chopped herbs.

1 large, very ripe tomato, about 10 to 12 oz (300 to 375 g)
Kosher or sea salt to taste
4 slices bacon
1 rectangle focaccia, Ace Bakery if available
2 cloves garlic, halved
Extra virgin olive oil for brushing
12 baby arugula leaves
1. Core tomato and cut in half horizontally. On large holes of a box grater placed in a mixing bowl, rub cut sides of tomato until you have just skins. Discard skins. Season pulp generously with salt. (Tomato will keep, covered and refrigerated for 1 day. Bring to room temperature before using.)

2. Place bacon in a large nonstick frying pan over medium heat. Cook, turning occasionally, until brown and crisp, about 15 minutes. Drain on paper towel. Cut each strip into 3 pieces.

3. Preheat broiler to high.

4. Cut focaccia crosswise into 6 slices, each ¾-inch (2 cm) thick. (Save rest for another use.) Trim ends and cut each slice in half. Place on foil-lined heavy-duty baking tray. Broil 4-inches (10 cm) from heat until nicely browned, 1 to 2 minutes per side.

5. Rub tops of crostini with cut sides of halved garlic. Brush generously with olive oil. Spoon tomato mixture over crostini. Top each crostini with a bacon piece and an arugula leaf.
SHARE