Old Dixie Fried Chicken
Début de l'été 2005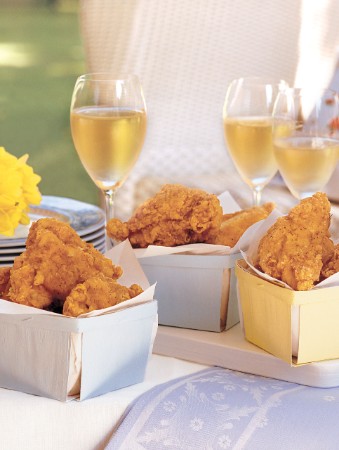 Old Dixie Fried Chicken
Début de l'été 2005
BY: Marilyn Bentz-Crowley
The coating on this fried chicken is as delicious as any 'secret recipe'. Resist cutting down on the amount of salt, pepper and paprika, as much of the seasoned flour is discarded after the chicken is coated. Two whole chickens can be cut up instead of buying parts.
8 bone-in chicken thighs
4 to 6 bone-in single chicken breasts
4 eggs
1 large clove garlic, minced
1 tbsp (15 mL) chopped fresh thyme or 1 tsp (5 mL) dried
2 cups (500 mL) all-purpose flour
5 tsp (25 mL) salt
2 tsp (10 mL) freshly ground black pepper
1½ tsp (7 mL) paprika
2 cups (500 mL) peanut oil
1. Chicken skin can be left on or removed. Using a heavy chef's knife, cut breasts in half crosswise. Beat eggs in a wide shallow bowl until well-mixed; stir in garlic and thyme. In another wide shallow bowl, stir flour with salt, pepper and paprika.

2 . Dip each piece of chicken into seasoned flour, then into egg and then back into flour. Repeat with remaining chicken. (Coated chicken can be placed in a single layer on a tray, covered and refrigerated for several hours.)

3 . When ready to fry, preheat oven to 450ºF (230ºC).

4. Place a large rack on a large baking tray. Pour enough oil into a cast-iron chicken fryer, Dutch oven or large deep frying-pan to come ½-inch (1-cm) up pan side. Or use electric deep-fat fryer. Heat over medium-high heat until very hot (365º to 375ºF, 185º to 190ºC). Working in batches of 4 pieces, fry chicken 1 to 2 minutes per side or until golden. Place on rack. When all chicken has been browned, leave it on try rack, place uncovered in preheated oven for 15 minutes or until cooked through. Serve hot or at room temperature.
SHARE