Nutmeg Apple Blister Squares
Temps des Fêtes 2004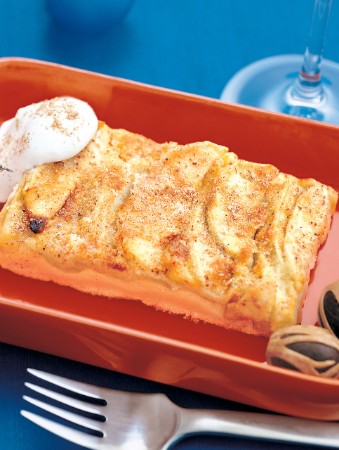 Nutmeg Apple Blister Squares
Temps des Fêtes 2004
BY: Lucy Waverman
A lovely alternative to some of the heavier desserts at this time of the year. You could do this in a round cake pan and serve wedges with ice cream for dessert. Otherwise cut into squares.
1 cup (250 mL) all-purpose flour
¼ tsp (1 mL) baking powder
2 tbsp (25 mL) icing sugar
¼ tsp (1 mL) salt
1 tsp (5 mL) grated lemon rind
½ cup (125 mL) butter
4 cups (1 L) peeled and thinly sliced Spy apples

Topping
½ cup (125 mL) sugar
2 tsp (10 mL) grated nutmeg
¼ cup (50 mL) butter, diced
2 egg yolks
½ cup (125 mL) whipping cream


1. Preheat oven to 350ºF (180ºC).

2. Sift together flour, baking powder, icing sugar and salt. Sprinkle in lemon rind. Cut in butter until the mixture resembles coarse meal. Line an 8-inch (2-L) square baking dish with parchment paper. Pat in dough.

3. Bake dough for 15 to 20 minutes or until pale gold.

4. Arrange apples in lines on top of the dough. Combine sugar and nutmeg. Sprinkle over apples. Dot with butter.

5. Beat egg yolks and cream together. Drizzle over the apples. Bake for 45 minutes or until crust is golden and fruit is soft. Serve warm or cooled. Cut into squares.
SHARE