Moroccan Chicken, Lentil & Barley Soup
Winter 2017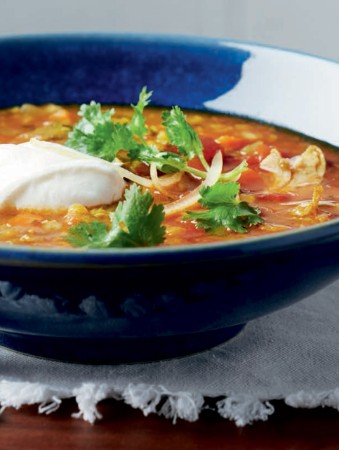 Moroccan Chicken, Lentil & Barley Soup
Winter 2017
BY: Heather Trim
Think hearty and thick and the warm spices you might find in a tajine. The soup is not spicy, simply full of flavour. When you are purchasing barley, look for pearl barley, as pot barley takes significantly longer to cook. If you don't have any of the garnishes, no worries! This soup can carry its own—no problem!
2 tbsp (30 mL) olive oil
4 skinless, boneless chicken thighs, about 1 lb (500 g) in total
Salt and pepper to taste
2 carrots, finely chopped
1 onion, finely chopped
½ cup (125 mL) chopped fresh parsley
½ cup (125 mL) chopped fresh coriander
3 cloves garlic, minced
1 tbsp (15 mL) finely grated ginger
1 tbsp (15 mL) cumin seed
1 tsp (5 mL) turmeric
1 tsp (5 mL) paprika
1 tsp (5 mL) cinnamon
1½ cups (375 mL) dried red lentils, rinsed and picked over
1 can (796 mL) plum tomatoes
8 cups (2 L) chicken stock, preferably homemade
¼ cup (60 mL) pearl barley
2 tbsp (30 mL) lemon juice

GARNISH
Plain yogurt, strips of preserved lemon and coriander sprigs
1 In a large pot, heat half the oil over medium heat. Season chicken with salt and pepper. Add to pot. Cook, turning occasionally, until deep golden, about 8 minutes. Set aside on a plate.

2 Add remaining oil to pot. Add carrots, onion, parsley, coriander and a generous pinch or 2 of salt. Cook over medium heat, stirring occasionally, until vegetables are tender, about 5 minutes. Add garlic, ginger, cumin, turmeric, paprika and cinnamon. Cook just until garlic is tender, about 1 more minute. Return chicken and any juices to pot. Stir.

3 Add lentils, tomatoes, stock and barley. Using a potato masher, crush and break up tomatoes into bite-sized pieces. Bring to a boil, then cover and gently simmer until lentils and barley are very tender, about 40 minutes. Remove chicken. Shred the meat then return it to pot. Add lemon juice, season with salt and pepper to taste.
4 Ladle soup into bowls. Top with a dollop of yogourt, some preserved lemon strips then sprigs of coriander.
Makes about 14 cups (3.5 L)
SHARE