Maple Mustard-Glazed Peameal Bacon Barbecue Roast
Summer 2017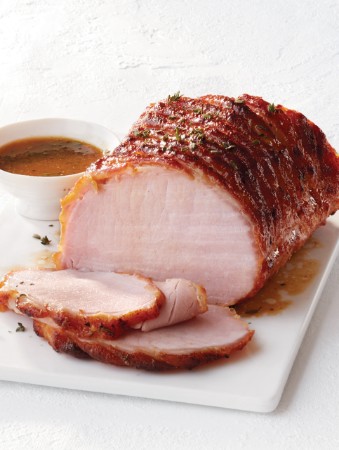 Maple Mustard-Glazed Peameal Bacon Barbecue Roast
Summer 2017
BY: Elizabeth Baird
A culinary hat trick: three stellar Canadian ingredients in one recipe—peameal bacon with its cornmeal wrap (an Ontario specialty); maple syrup, often from Quebec (where about 72 percent of the world's production is boiled down), but not forgetting Ontario and Maritime syrup; and mustard from the Prairies where more than three-quarters of the world's mustard seed is grown.
½ cup (125 mL) medium maple syrup
¼ cup (60 mL) Dijon mustard
2 tsp (10 mL) cider vinegar
2 tsp (10 mL) minced fresh thyme
¼ tsp (1 mL) freshly ground pepper
2 lbs (1 kg) peameal bacon roast
1. Bring the maple syrup, mustard, vinegar, thyme and pepper to a boil; simmer 2 minutes. Let cool. Pour half into a small bowl to serve as sauce.

2. Neatly score the top of the cornmeal crust at ½-inch (1-cm) intervals, cutting a generous ¼ inch (5 mm) deep. Brush half of the remaining maple mixture evenly over the roast. Do this a few hours ahead, cover lightly and refrigerate.

3. Preheat the barbecue to medium-high, 400°F (200°C).

4. Place the roast, cut-side up, on a piece of heavy-duty foil large enough to double and form a shallow bowl around the roast. Slide onto a rimless baking sheet and slip onto the grill. Put the lid down and roast for 10 minutes. Reduce heat to medium-low, 325°F (160°C). Cook for 30 minutes; brush with remaining maple mixture. Roast until crusty and burnished with an interior temperature of 140°F (60°C), about 30 minutes.

5. Transfer to carving board and cover lightly with foil; let rest for 15 minutes before slicing thinly and serving with sauce.
TIPS For grilled peameal bacon "chops," cut the roast into ¾-inch (2-cm) slices. Brush both sides very lightly with vegetable oil. Grill over medium-high heat on both sides just until marked. Brush on the maple sauce and grill for just enough time to crisp the edges and glaze the slices. For oven-roasted peameal bacon, follow temperatures and times as for the barbecue version.
SHARE