Lentil and Olive Salad
Summer 2002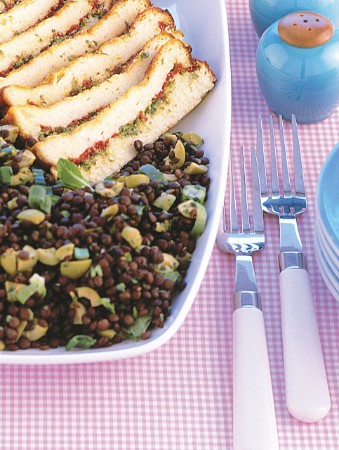 Lentil and Olive Salad
Summer 2002
BY: Lucy Waverman
This beautiful, herbal salad looks spectacular when made with small green lentils de Puy. They also retain their shape and texture well. If not available then use regular green or brown lentils, which cook for slightly less time.
2 cups (500 mL) lentils de Puy
6 cups (1.5 L) water
1 onion, coarsely chopped
2 cloves garlic
2 slices lemon
1 bay leaf
4 sprigs thyme
1 dried red chili pepper, optional
Salt and freshly ground pepper

Salad
1 cup (250 mL) chopped green olives
1/2 cup (125 mL) chopped green onions
1/2 cup (125 mL) chopped fresh mint
1/2 cup (125 mL) chopped parsley
1/2 cup (125 mL) olive oil
1/4 cup (50 mL) lemon juice
1. Place lentils in a pot with water, onion, garlic cloves, lemon, bay leaf, thyme sprigs and chili pepper. Bring to a boil, reduce heat, cover and simmer for 30 to 40 minutes or until lentils are softened. Drain well and discard garlic, lemon, thyme and chili. Season with salt and pepper.
2. Whisk together olives, onions, mint, parsley, olive oil and lemon juice. Season with salt and pepper. Stir into lentils while lentils are still hot. Cool.
SHARE