Lemon Paprika Sous Vide Flattened Chicken
Early Summer 2019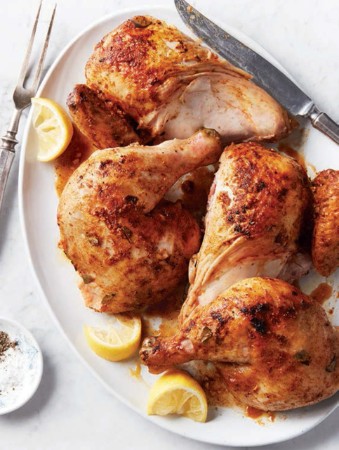 Lemon Paprika Sous Vide Flattened Chicken
Early Summer 2019
BY: Jennifer MacKenzie
Sous vide cooking creates the juiciest, most tender and evenly cooked chicken. To flatten, cut along both sides of the backbone to remove it, then press or cut breast bone. Ask your butcher to do this for you or check out an online tutorial if you've never done it before. Make sure the chicken is 2½ inches (6 cm) or less at the thickest part to ensure proper cooking in this recipe. When browning the chicken, broiling is easier than grilling but both are doable. Regardless of the method, handle it with care to prevent the legs and wings from falling off—it's that tender! 
1 large clove garlic, minced
2 bay leaves, crumbled
1 tbsp (15 mL) sweet paprika
Kosher salt
¼ tsp (1 mL) smoked paprika (optional)
¼ tsp (1 mL) freshly ground pepper
2 tbsp (30 mL) olive oil
Grated zest of 1 lemon
1 tbsp (15 mL) fresh lemon juice
1 chicken, about 4 lbs (1.81 kg), flattened
1 Combine garlic, bay leaves, paprika, ½ tsp (2 mL) salt, smoked paprika (if using), pepper, oil, lemon zest and lemon juice in a small bowl.

2 Place chicken on a baking sheet and spread the spice mixture evenly all over. Transfer chicken to an extra-large resealable freezer bag or vacuum seal bag, scraping in any excess spice mixture. Spread chicken flat, tucking wing tips under sides. Remove air from bag using water displacement method (see TIP this page) or vacuum sealer and seal bag. Marinate in the refrigerator for at least 30 minutes or for up to 1 day.

3 Set up water bath and preheat to 148°F (65°C).

4 Immerse bag in preheated water bath and cook sous vide for 4 hours, starting timing when water returns to set temperature.

5 Preheat broiler or barbecue grill to medium-high. Line a rimmed baking sheet with foil if using broiler.

6 Remove bag from water bath and let chicken rest for 5 minutes. Open bag and using a large lifter, remove chicken from the bag, draining off excess liquid. Slide chicken onto prepared baking sheet with the skin-side up or onto a well-greased grill with the skin-side down. Season with salt.

7 Broil or grill for about 5 to 7 minutes or until skin is browned and crisp. 
SHARE