Large Lobster Tails with Dill Butter & Pistachios
Temps des Fêtes 2010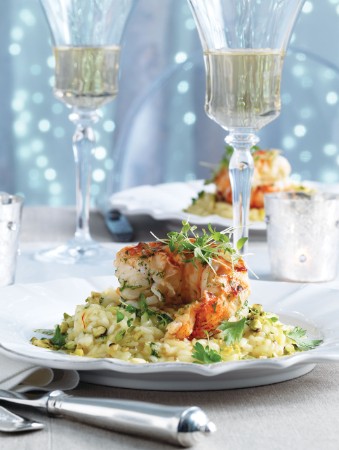 Large Lobster Tails with Dill Butter & Pistachios
Temps des Fêtes 2010
BY: Marilyn Bentz-Crowley
This is among the simplest of entrées to prepare and is quite festive. Cooking lobster in the shell results in a concentration of seafood flavour.
1 cup (250 mL) shelled pistachios (see TIP)
1 lemon
⅓ cup (75 mL) salted butter, softened
1/4 cup (50 mL) finely chopped fresh dill
1/4 tsp (1 mL) freshly ground black pepper
6 large lobster tails, each 10 to 12 oz (300 to 375 g), defrosted
1 Finely chop pistachios by pulsing in food processor; however, leave large enough so pieces of nut are recognizable. (If making ahead, cover and refrigerate for up to 3 days, or freeze.)

2 Finely zest lemon with a rasp. Stir zest with butter, dill and pepper. (If making ahead, cover and refrigerate for up to a day. Bring butter to room temperature before using.)

3 To prepare lobster tails, place each one, smooth-side up, on a cutting board. Use heavy kitchen scissors to snip open shell along midpoint from front (where meat is visible) going back to the tail. Using your fingers, force shell open and loosen the meat. Stuff butter between meat and shell and over the exposed meat. Tails can be covered and refrigerated for up to half a day.

4 Preheat oven to 375°F (190°C).

5 Place stuffed tails, cut-side up, on a baking sheet. Fan out each tail to steady. Bake 25 minutes or until lobster separated with 2 forks at thickest point has lost grey centre and reads at least 165°F (73°C) on an instant-read thermometer.

6 To serve, force open shells more widely. Grasping meat with tongs, loosen at bottom and pull out. Place lobster on a bed of risotto. Nap with butter and juices from broiling pan; liberally sprinkle with pistachios. Serve right away.

TIP
The pistachios need to be bright green, which means shelling large salted California pistachios, as already-shelled pistachios sold in bags are usually too darkly roasted. Nearly 3 cups (750 mL) of nuts in the shell are needed to yield 1 cup (250 mL) of shelled pistachios.


SHARE