La Condesa
Début de l'été 2020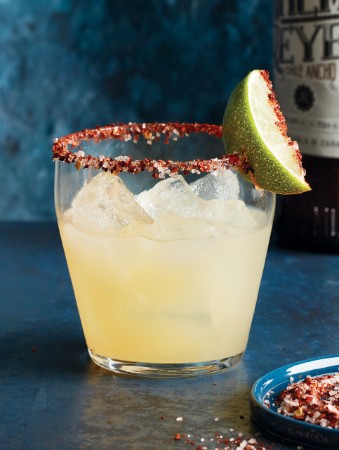 La Condesa
Début de l'été 2020
BY: Christine Sismondo
Adding a dash of sweet heat to a classic lime-tequila cocktail is just the update this drink needs to make it a modern classic.


1 lime wedge, with slit cut in middle
½ cup (125 mL) chili salt rimmer mix poured on small plate (for rimming the glass)
1½   oz reposado tequila
1 oz Ancho Reyes liqueur
1 oz freshly squeezed lime juice
½ tsp (2 mL) special fine sugar
6 ice cubes plus extra


1 Rub the lime wedge around the rim of a glass until there's a trace of sticky juice all the way around. Dip the rim into the chili salt rimmer mix until it has picked up an even ring of salt. Gently wipe the salt from the inside of the rim so that it doesn't fall into the drink. Fill with ice to chill the glass.

2 Pour tequila, ancho liqueur, lime juice and sugar into a cocktail shaker, along with 6 ice cubes. Shake for 60 seconds until it's ice-cold. Discard ice used to chill glass, then strain cocktail into chilled, freshly iced-up glass.

3 Dip the lime wedge into chili salt and use it as a garnish.


SHARE