Honey Pistachios
Été 2018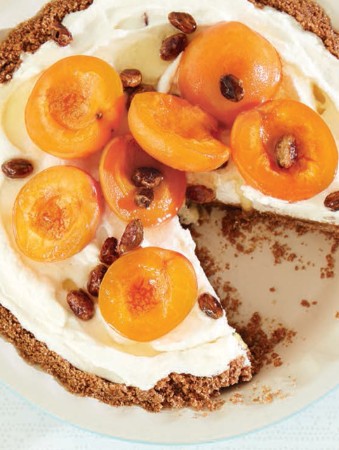 Honey Pistachios
Été 2018
BY: Joanne Yolles
These honey-coated pistachios add flavour and a welcome crunch to the icebox pie, but are also delicious all on their own. The recipe can be adapted using other nuts as well.
1 tbsp (15 mL) honey
½ cup (125 mL) shelled, unsalted pistachios
1 tbsp (15 mL) sugar
1. Preheat the oven to 350°F (180°C). Line a baking sheet with parchment paper and set aside.

2. Place the honey in a small microwave-safe dish and microwave on high for about 10 seconds just to liquify. Add the pistachios to the bowl of honey and toss to coat. Add the sugar and toss well. Spread the nuts out on the prepared baking sheet and bake for 10 to 12 minutes, stirring after 5 minutes. Cool completely then separate if the nuts are stuck together.
Makes enough for 1 Orange & Honey-Nougat Icebox Pie with Honey-Baked Apricots
SHARE