Grilled Pork Loin with Grilled Watermelon, Grilled Corn, Edamame & Lime Salsa
Summer 2018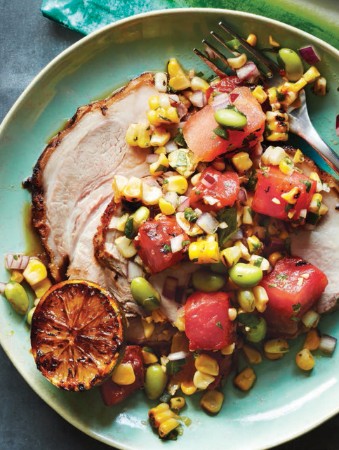 Grilled Pork Loin with Grilled Watermelon, Grilled Corn, Edamame & Lime Salsa
Summer 2018
BY: Signe Langford
Bright and colourful, fresh and tangy, this dish is summer on a plate. The salsa is perfect with pork but also excellent with fish, chicken, grilled veggie kebabs or even with rice and avocado. If you can't find edamame or you're avoiding soy, then fresh peas or a tin of black beans, rinsed and drained, will work fine with this Mexican-inspired dish.
½ tsp (2 mL) ground cumin
1½ tsp (7 mL) sea salt, divided
½ tsp (2 mL) pepper
½ tsp (2 mL) sugar
1 pork loin, 2 lbs (905 g)
¼ cup (60 mL) olive oil, plus about 2 tsp (10 mL) more for oiling the loin
1 cup (250 mL) fresh or frozen edamame
4 ears of corn on the cob, shucked
¼ of large or typical-size watermelon, cut into wedges about 2 inches (5 cm) thick, about 5 to 7 wedges
1 small red onion, finely diced, about 1 cup (250 mL)
1 clove garlic, finely minced
¼ cup (60 mL) finely chopped fresh coriander, tender top stems and leaves only
1 jalapeño, seeded and finely diced
4 limes, divided (3 for grilling, 1 for juicing)
1. Into a small bowl add the cumin, ½ tsp (2 mL) salt, pepper and sugar. Stir to blend. Allow the pork loin to come to room temperature. Rub it all over with a drizzle (2 tsp/5 mL) of olive oil—just enough to make it sticky—then dust it all over with cumin and salt rub. Set aside at room temperature until ready to grill or roast, which you will do last, preventing it from drying out.

2. Bring a saucepan of water to a boil over high heat. Add the edamame and boil for about 1 minute; drain and rinse under cold water until cool to the touch. Set aside in the fridge to drain and chill further.

3. Set grill on medium-high and grill the corn on the cob, turning often, for about 5 minutes or until there is a nice mix of charred and yellow kernels. Don't be alarmed, expect some dramatic snapping and popping! Set aside to cool. Once cool enough to handle, slice the kernels off the cobs with a sharp knife. Add to a large, non-reactive or glass bowl and set aside in the fridge.

4. Place the watermelon wedges on the grill and turn as soon as there are some dark grill marks, about 1 to 2 minutes per side. Transfer to a plate and set aside to cool. When cool enough to handle, cut into about 1-inch (2.5-mL) cubes. Add watermelon cubes to the bowl with corn.

5. Add the onion, garlic, edamame, coriander, jalapeño, 1 tsp (5 mL) salt and the juice of 1 lime to bowl with watermelon; stir to combine well. Return to the fridge to continue chilling while the pork cooks.

6. Grill pork on preheated medium-high barbecue or in a preheated oven set to 425°F (220°C), turning a few times during grilling for even cooking and nice charring or turning once during roasting. Pork should cook for 20 to 35 minutes, or until a meat thermometer inserted into the thickest part reads anywhere between 145°F (63°C) for medium-rare and 160°F (71°C) for well done.

7. Cut the 3 remaining limes in half and set on the grill, cut-side down, until juicy and with some grill marks, about 3 minutes.

8. To serve, slice pork loin and serve a few slices with a generous spoonful of the salsa, a grilled lime half and some grilled flatbread, rice or quinoa. Garnish with more coriander leaves if desired.
Serves 4 to 6, making 8 cups (2 L) salsa
SHARE