Grilled Plum Caprese Pizza
Summer 2019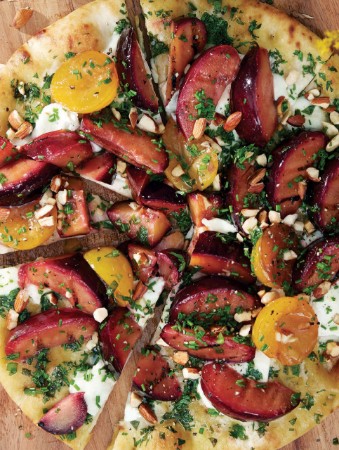 Grilled Plum Caprese Pizza
Summer 2019
BY: Michelle Rabin
Pizza is the ideal go-to crowd-pleaser, no matter the weather or the season. This fresh, herbaceous pizza recipe is perfect for summer. No need to turn on the oven or make pizza sauce over a hot stove—it's made entirely on the barbecue. Fresh juicy plums get grilled and form the topping, reminiscent of a Caprese salad made with buffalo mozzarella and fresh herbs.
¼ cup (60 mL) finely chopped parsley
¼ cup (60 mL) finely chopped basil, plus whole leaves for garnish
½ cup (125 mL) extra virgin olive oil
Salt and pepper
About ⅔ to ¾ lb (300 to 340 g) round flatbread
8-oz (225-g) ball fresh buffalo mozzarella cheese
1 tbsp (15 mL) honey
2 tbsp (30 mL) red wine vinegar
4 golden plums, quartered, or halved if small
2 black plums, cut into 1-inch (2.5-cm) slices
2 red plums, cut into 1-inch (2.5-cm) slices
¼ cup (60 mL) roughly chopped roasted almonds
¼ cup (60 mL) finely chopped chives
1 Preheat the grill to medium-high heat. Set up your barbecue for indirect grilling by turning the outside 2 burners to medium-high and leaving the centre burner off. If you only have a 2-burner barbecue, heat only one side.

2 In a bowl, mix parsley and basil with olive oil. Season with a few pinches of salt and pepper.

3 Brush the mixture over flatbread leaving a 1-inch (2.5-cm) border around the edges.

4 Roughly tear the mozzarella ball into 10 mismatched pieces and arrange on the flatbread.

5 Stir honey and red wine vinegar in a medium bowl.

6 Place the plums on clean, well-greased grill over direct heat. Cook until charred and tender, about 2 minutes per side. Remove from grill and place in bowl with honey-vinegar mixture. Stir to coat and set aside.

7 Place flatbread over indirect heat and cook until edges are golden and cheese is melted, about 15 minutes.

8 Remove from grill. Spoon grilled plums over the pizza and discard any residual liquid left in the bowl. Garnish pizza with chopped almonds, chives, fresh basil leaves and salt and pepper.
SHARE