Grilled Fall Fruit with Cassis-Lemon Cream
Autumn 2012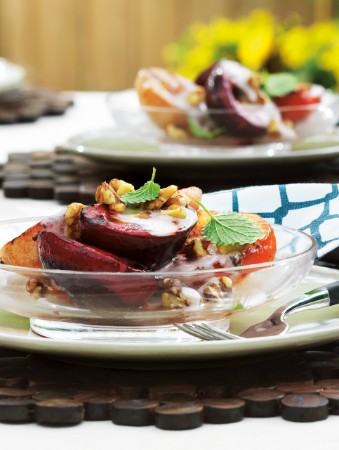 Grilled Fall Fruit with Cassis-Lemon Cream
Autumn 2012
BY: Julia Aitken
Who knew fruit on the grill could be so good? We like this fall combo of pears, peaches and plums, but feel free to vary the mixture (apricots would be lovely, too) depending on what looks good at your local market.
GRILLED FRUIT
¼ cup (60 mL) walnut oil
¼ cup (60 mL) crème de cassis
2 tbsp (30 mL) lemon juice
2 tbsp (30 mL) liquid honey
½ tsp (2 mL) five-spice powder
3 firm, ripe pears, peeled, halved lengthwise and cored
3 large firm, ripe peaches, halved and pitted
6 firm, ripe plums, halved and pitted

CASSIS-LEMON CREAM
1 cup (250 mL) crème fraîche
¼ cup (60 mL) crème de cassis
1 tbsp (15 mL) liquid honey
1 tsp (5 mL) finely grated lemon zest
¼ tsp (1 mL) five-spice powder
1/3 cup (80 mL) toasted walnut pieces
1 Preheat barbecue to medium. Thoroughly clean cooking grates.

2 In a large bowl, whisk together walnut oil, crème de cassis, lemon juice, honey and five spice powder. Add fruit and toss gently until thoroughly coated.

3 Remove fruit from bowl with a slotted spoon, reserving walnut oil mixture. Grill fruit, with lid closed and turning fruit once or twice, until tender and well marked with grill marks, 6 to 8 minutes for peaches and plums, 10 to 12 minutes for pears.

4 Meanwhile, whisk together crème fraîche, crème de cassis, honey, lemon zest and five spice powder.

5 When fruit is ready, peel off any loosened skin from peaches and plums. Cut pear and peach pieces in half lengthwise, if desired.

6 Divide fruit among 6 dessert plates or bowls. Whisk walnut oil mixture and drizzle a little over each portion of fruit. Spoon Cassis-Lemon Cream over fruit and sprinkle with walnuts.
SHARE