Gourmet Chicken Nacho Platter with Spiked Sour Cream
Winter 2008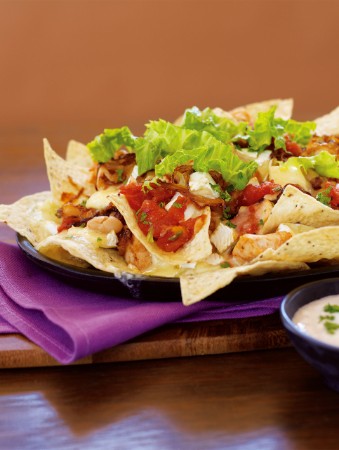 Gourmet Chicken Nacho Platter with Spiked Sour Cream
Winter 2008
BY: Michael Fagan & Emily Richards
Nothing says "big game" more than nachos, but that doesn't mean they have to be served with the same old toppings. Try these gourmet-style nachos that bring classic bistro flavours to a party favourite.
Caramelized Onions

1 tbsp (15 mL) olive oil
1 large onion, thinly sliced
1 tsp (5 mL) granulated sugar

Chicken Topping

1 tbsp (15 mL) olive oil
2 boneless skinless chicken breasts, cut into ½-inch (1-cm) dice
2 small cloves garlic, minced
1 tsp (5 mL) chopped fresh rosemary, or ½ tsp (2 mL) dried
¼ tsp (1 mL) each salt and pepper
¾ cup (175 mL) drained canned diced tomatoes
½ cup (125 mL) cooked white kidney beans
2 tbsp (25 mL) chopped fresh Italian parsley
1 bag (320 g) large nacho chips
1 round brie cheese (200 g), chopped

Spiked Sour Cream

1 cup (250 mL) sour cream
⅓ cup (75 mL) raspberry chipotle sauce (such as Dan-T's)

1 cup (250 mL) shredded lettuce or spinach
1. To make caramelized onions, heat oil over medium-high heat in large nonstick skillet. Add onions, cover and cook for about 8 minutes, stirring once or until softened. Sprinkle with sugar and reduce heat to medium and cook for about 15 minutes or until brown and very soft. Set aside.

2. To make chicken mixture, heat oil in shallow saucepan over medium heat. Add chicken, garlic, rosemary, salt and pepper. Cook, stirring for 5 minutes. Add tomatoes, beans and parsley. Cook, stirring for about 5 minutes or until no liquid remains and chicken is no longer pink inside.

3. Preheat oven to 375°F (190°C).

4. Spread nacho chips over parchment-paper-lined baking sheet in single layer. Spoon chicken mixture over chips to cover most chips. Spread caramelized onions overtop. Sprinkle brie over onions. Bake for about 15 minutes or until cheese is melted.

5. To make flavoured sour cream, stir together sour cream and raspberry chipotle sauce until combined; set aside.

6. Remove nachos from oven and sprinkle with lettuce. Serve with spiked sour cream for dipping.
SHARE