Gingerbread Cream Pie
Temps des Fêtes 2007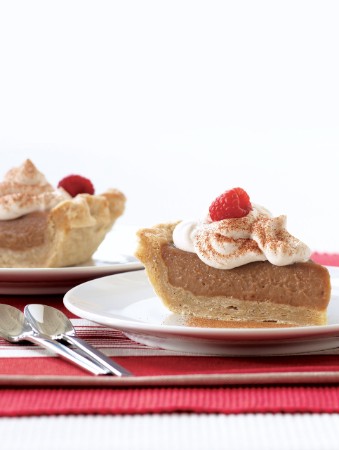 Gingerbread Cream Pie
Temps des Fêtes 2007
BY: Anna Olson
Rich, rich, rich! This pie is reminiscent of butterscotch cream pie and pumpkin pie all at the same time. Try adding this same gingerbread spice blend to your coffee grounds when brewing a full pot—it makes the perfect accompaniment.
Crust
2 cups (500 mL) all-purpose flour
¼ tsp (1 mL) ground cinnamon
¼ tsp (1 mL) salt
⅔ cup (150 mL) frozen unsalted butter
2 tbsp (25 mL) golden brown sugar, packed
1 egg yolk
4 to 6 tbsp (60 to 90 mL) cold water

Filling
1 cup (250 mL) unsalted butter
1¼ cups (300 mL) dark brown sugar, packed
1 cup (250 mL) whipping cream
¼ cup (50 mL) fancy molasses
4 egg yolks
⅓ cup (75 mL) cornstarch
2 tsp (10 mL) finely grated fresh ginger
¾ tsp (4 mL) ground cinnamon
¼ tsp (1 mL) ground nutmeg
¼ tsp (1 mL) ground cloves
¾ tsp (4 mL) salt
2 cups (500 mL) 2% milk

Topping
1½ cups (375 mL) whipping cream
2 tbsp (25 mL) sugar
1 tsp (5 mL) vanilla extract
¼ tsp (1 mL) ground cinnamon
1. For crust, combine flour, cinnamon and salt. With a coarse grater, grate butter into flour mixture and combine just to coat butter with flour. In a separate bowl, whisk brown sugar with egg yolk and 4 tbsp (60 mL) water and add to flour. Mix just until dough comes together, adding a little more water, if needed. Wrap and chill for 30 minutes.

2. On a lightly floured surface, roll out dough to ⅛ inch (3 mm) thick. Line a 9-inch (23-cm) pie shell with dough, trim and cinch edges. Chill for 20 minutes. Preheat oven to 375°F (190°C). Line pie shell with aluminium foil and weight with pie weights, rice or dried beans. Bake for 18 to 20 minutes, then remove foil and weights and bake for 10 to 12 minutes more, until centre of pie shell is dry and edges are lightly browned. Allow to cool.

3. For filling, heat butter and brown sugar in a pot over medium heat, stirring until bubbling. Whisk in cream and molasses and stir until just below a simmer. Whisk egg yolks, cornstarch, ginger, spices, salt and milk in a bowl. Slowly pour hot cream mixture into egg mixture, whisking constantly until blended. Return mixture to pot and whisk over medium heat until thickened and just beginning to bubble. Strain and pour into cooled pie plate. Place a piece of plastic wrap directly on surface of filling and chill until set, at least 6 hours.

4. For topping, whip cream to soft peaks and fold in sugar, vanilla and cinnamon. Dollop and spread evenly over gingerbread filling and chill until ready to serve.
SHARE