Gin New Fashioned
Printemps 2016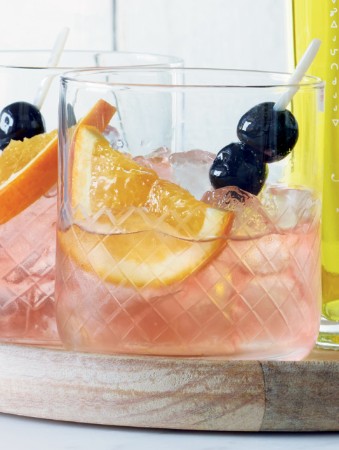 Gin New Fashioned
Printemps 2016
BY: Eric Vellend
Created in 1838 by Antoine Peychaud at his New Orleans apothecary, Peychaud's Bitters was originally a medicinal tonic. Fruity and floral with a hint of spice, it is today a key ingredient in classic Creole cocktails like the Sazerac and Vieux Carré. If you're looking to upgrade from standard maraschino cherries, seek out the Luxardo, Toschi or Amarena Fabbri brands. Both the bitters and cherries are easily ordered online.
1¾ oz Ungava Canadian Premium gin
1 tsp (5 mL) Luxardo Maraschino liqueur
½ tsp (2 mL) Simple Syrup (recipe follows)
2 dashes Peychaud's Bitters
Orange twist
Orange slice and 2 maraschino cherries on a cocktail pick
1 In a chilled rocks glass filled with ice, pour gin, Luxardo, Simple Syrup and bitters. Stir to combine and let sit 1 minute. Squeeze orange twist over surface of drink and discard. Stir briefly and garnish with orange slice and cherries.

SIMPLE SYRUP
1 Combine equal parts sugar and boiling water. Stir until sugar has dissolved. Store in the fridge until chilled.
SHARE