Fruit Salad with Lemongrass-Ginger Syrup
Été 2003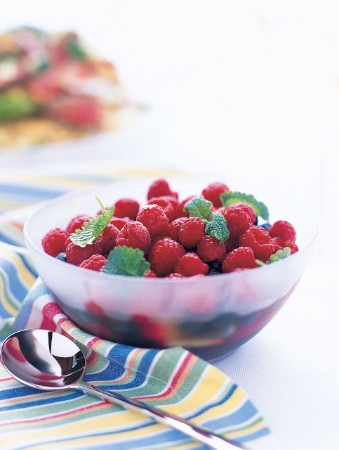 Fruit Salad with Lemongrass-Ginger Syrup
Été 2003
BY: Lucy Waverman
A fragrant sugar syrup flavours the fruit, and a pretty presentation gives it eye appeal. Vary the fruits seasonally or with your own favourites. Reserve a little syrup and beat it into whipping cream to serve alongside. Use liqueurs other than lychee, if desired.
Sauce:
1 stalk lemon grass
2 tbsp (25 mL) chopped pickled ginger
1/2 cup (125 mL) brown sugar
1/2 cup (125 mL) water
2 tbsp (25 mL) lemon juice
1 tsp (5 mL) grated lemon rind
1/4 cup (50 mL) lychee liqueur
2 cups (500 mL) sliced strawberries
2 cups (500 mL) blueberries
2 cups (500 mL) raspberries
1 cup (250 mL) redcurrants or blackcurrants


Garnish:
Lemon balm or mint sprigs
1. Cut lemon grass into 2-inch (5-cm) pieces and smash with the back of a pot to bruise it. Place in pot. Add ginger, sugar, water, lemon juice and rind. Bring to boil, reduce heat to low and simmer for 5 minutes. Cool and strain. Stir in lychee liqueur.

2. Layer fruit in a glass bowl and pour over syrup. Garnish with lemon balm or mint sprigs.
SHARE