Fall Turkey and Pasta Dinner
Autumn 2007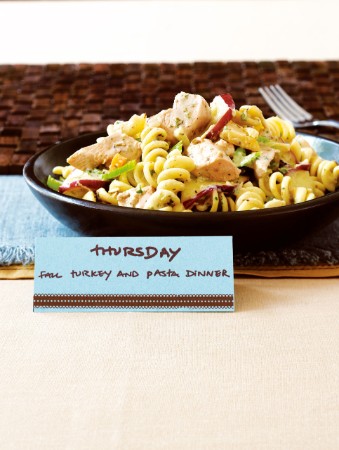 Fall Turkey and Pasta Dinner
Autumn 2007
BY: Emily Richards
During the fall, we have leftover turkey or chicken and want to find another way to use it. Here's how. Reminiscent of stuffing with onions, celery and carrots, the sweet flavours of apple and turkey shine through for an easy skillet sauce that coats pasta perfectly.
2 tbsp (25 mL) butter or oil
1 small onion, thinly sliced
1 stalk celery, thinly sliced
1 small carrot, diced
3 cloves garlic, minced
1 red-skinned apple, cored and thinly sliced
½ tsp (2 mL) dried thyme leaves
½ tsp (2 mL) dried sage leaves
¼ tsp (1 mL) salt
Pinch pepper
1½ cups (375 mL) chopped cooked turkey or chicken
1 cup (250 mL) sour cream
½ cup (125 mL) chicken stock
1 tbsp (15 mL) pesto (optional)
1 tsp (5 mL) Dijon mustard
12 oz (375 g) rotini or fusilli pasta
1 tbsp (15 mL) finely chopped fresh Italian parsley


1. Melt butter in large nonstick skillet over medium heat. Cook onion, celery, carrot and garlic for about 5 minutes or until softened. Increase heat to medium-high and add apple, thyme, sage, salt and pepper and cook, stirring for about 2 minutes or until starting to turn golden.

2. Reduce heat to medium-low and add cooked turkey, sour cream, chicken stock, pesto (if using), and mustard, stirring gently to combine and warm through.

3. Cook pasta in large pot of boiling salted water for about 8 minutes or until tender but firm (al dente). Drain and return to the pot. Pour sauce over pasta; add parsley and stir to combine until coated.
SHARE